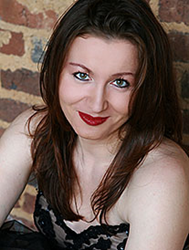 Who knew Chopin wrote bawdy drinking songs with lyrics that included " I'll kiss you all over" Brian Ganz
North Bethesda, MD (PRWEB) January 06, 2016
National Philharmonic
Music Center at Strathmore
5301 Tuckerman Lane
North Bethesda, MD 20852
FOR IMMEDIATE RELEASE
CONTACTS:
Marc Apter, 301.904.3690
marca1030(at)gmail(dot)com
Replacement Singer Announced
Pianist Brian Ganz Continues His "Extreme Chopin" Quest To Be The First to Perform All of the Composer's Works With Jan. 9 Concert
Joined by Polish Born Mezzo-Soprano Magdalena Wór
They Will Perform Little Known Chopin Songs
On Van Cliburn's Steinway
(North Bethesda, MD, January 5, 2016) – Pianist Brian Ganz, in partnership with the National Philharmonic at The Music Center at Strathmore, will highlight 10 of Chopin's seldom heard songs in his sixth all-Chopin recital. Ganz will accompany Polish born Mezzo-Soprano, Magdalena Wór, in "Chopin: Bel Canto of the Piano," as well as feature works for solo piano that capture the composer's gift for making the piano "sing," including the great Sonata No. 3, Op. 58. Ganz's "Extreme Chopin" quest to perform all the approximately 250 works of Chopin crosses beyond its mid-point at 8 p.m. Saturday, Jan. 9 at Strathmore. Ganz will be playing Van Cliburn's Steinway as he also performs a little-known Cantabile, the first Impromptu and two Nocturnes. Children ages seven to 17 are admitted free. For more information or to purchase tickets visit nationalphilharmonic.org or call 301-581-5100.
"Chopin loved the human voice, and he made the piano sing as no other composer has before or since," said Ganz. "I'll begin the program with a few solo works that highlight that ability, like the rarely heard 'Cantabile,' which means 'in a singing tone.' It's a tiny gem, even shorter than most of the composer's preludes."
Ganz will highlight both the Steinway and Chopin in the first half of his concert by continuing with the Impromptu, Op. 29, and a selection of nocturnes. The highlight of the first half, according to Ganz, will be "the incredible voice of Magdalena Wór, who will bring 10 of Chopin's songs to life."
The second half of the concert will feature Ganz's performance of Sonata No. 3 in B Minor, Op 58. One of only four sonatas composed by Chopin, Sonata No. 3 was written when he was at his peak of creativity. Musicologist Tadeusz Zielinski calls it Chopin's "deepest" work.
"The general perception is that Chopin was more comfortable writing miniatures than substantial works in sonata form, but I think that's a misperception," Ganz noted. "He made the sonata form work for him and wrote several masterpieces in the genre."
Ganz uses a gardening metaphor to illustrate his point. "Many of Chopin's ideas arrive 'fully grown,'" he explained. "I think that's why he's such a master of miniatures. But he also had the genius to pace a larger work with musical 'seeds' that develop slowly.
"A sonata by definition takes time to work out, grow, unfold," Ganz continued. "The 3rd Sonata is a masterpiece of pacing. It's also music of indescribable beauty, because it's Chopin."
Chopin's songs are set to Polish poems, mostly written by the composer's contemporaries, including the composer's friend Stefan Witwicki and the poet generally considered the greatest of his generation in Poland, Adam Mickiewicz. The poems explore elements of Romanticism including romantic love, longing, beauty and the power of nature, and include a rather bawdy drinking song.
The translation of the first stanza of that song follows:
Hulanka (Drinking Song) Op. 74, No. 4 (Translation by Ted Mirecki on the basis of Bernard Jacobson, "The Songs" in The Chopin Companion, ed. Alan Walker, Norton Library, New York 1973)
Little barmaid, little waitress,
what are you doing? Stop!
There you're laughing and here
you're pouring mead on my jacket.
I'll not forgive, I'll kiss you all over!
What eyes, what eyebrows,
what little feet, what small white teeth,
you set my blood on fire!
Other selections include: Życzenie (A Maiden's Wish) Op. 74, No. 1; Ślicznyż Chłopiec (Handsome lad) Op. 74, No. 8; Hulanka (Drinking Song) Op. 74, No. 4; Precz z moich oczu (Out of My Sight!) Op. 74, No. 6; Poseł (The Messenger) Op. 74, No. 7; Moja pieszczotka (My Darling) Op. 74, No. 12; Pierścień (The Ring) Op. 74, No. 14; Smutna Rzeka (Melancholy River) Op. 74, No. 3, and Piosnka litewska (Lithuanian Song) Op. 74, No. 16.
"It's exciting to bring these lyrical bel canto-style songs to Washington audiences as they are so seldom performed," said Ganz, who added that Chopin never published these works.
Polish soprano Iwona Sobotka was to perform with Ganz but visa issues prevented that outcome.
Polish born mezzo-soprano Magdalena Wór is a winner, finalist and recipient of many prestigious national and international competitions and awards, including the Marcello Giordani and Moniuszko International Vocal Competitions, Metropolitan Opera National Council Auditions and Marcella Kochanska Sembrich Vocal Competition.
Ms. Wór is an alumna of the Washington National Opera's Domingo-Cafritz and San Francisco Opera's Merola Opera Programs. Over the last several seasons Ms. Wór has worked with The Metropolitan Opera, the National Symphony Orchestra and the National Philharmonic in Washington, DC, the Washington National Opera and the Atlanta Symphony Orchestra.
Magdalena is often praised by music critics and fans alike for the rich color of her voice, vocal flexibility- which allows her to sing low and high mezzo repertoire spanning Baroque through the 21st century- and for her complete devotion to both the music and the text at hand.
Widely regarded as one of the leading pianists of his generation, Ganz has appeared as soloist with such orchestras as the St. Louis Symphony, the St. Petersburg Philharmonic, the Baltimore Symphony, the National Philharmonic, the National Symphony and the City of London Sinfonia, and has performed with such conductors as Leonard Slatkin, Marin Alsop, Mstislav Rostropovich and Piotr Gajewski.
Ganz is oft quoted as saying, "Chopin's music is the language of my soul, and I have dreamed since childhood of someday performing all of his works." His quest began in earnest in 2011.
Ganz's capacity "Extreme Chopin" concerts have received glowing reviews. An audience of about 2,000 attended the first in the series, after which the Washington Post wrote: "Brian Ganz was masterly in his first installment of the complete works." After the third sold out recital in 2013, Washington Post reviewer Grace Jean wrote, "It's easy to see why so many Washingtonians flocked to hear pianist Brian Ganz…in his hands, the rarely performed Trois Ecossaises, Op.72, No. 3, became effervescent light beams."
Future "Extreme Chopin" recitals will include all the chamber music and remaining songs as well as the complete solo works, including each version of every mazurka and waltz. Ganz will also play such obscure and overlooked works as the little Fugue in A minor, the two bourrées and the variation Chopin wrote for Hexameron, a rarely heard work initiated by Chopin's friend, composer and pianist Franz Liszt, and completed by multiple composers.
Ganz will perform Chopin's orchestral works with the National Philharmonic, whose music director, Piotr Gajewski, has embraced the pianist's ambitious endeavor wholeheartedly. "Brian may be the first pianist to play all of Chopin's works – not only because of his great love for the composer, but also because of his intense connection with his audience," Gajewski said, adding that Ganz sometimes brings his entire collection of Chopin's music to a performance so that he can accept requests from the audience.
Perhaps the first pianist to perform all Chopin's works, Ganz noted, "that significance is eclipsed by my excitement in sharing works that even lovers of Chopin may never have heard. There are so many works of great beauty and emotional power, but there are also quite a few buried treasures that deserve to be heard. It's fascinating to hear, for example, the different authentic versions that exist of some very well known works. There are marvelous surprises in store for Chopin lovers."
Ganz is participating in a regional tour showcasing the personal Steinway & Sons grand piano of one of classical music's most revered artists, Van Cliburn, sponsored by Steinway Piano Gallery of Washington, D.C.
The recital will include the following Chopin compositions: Cantabile in B-Flat Major, Op. Posth; Impromptu No. 1 in A-Flat Major, Op.29; Nocturne in C Minor, Op. Posth; Nocturne in F Major, Op. 15, No.1; Songs from Op. 74 and Sonata No. 3 in B minor, Op 58.
To purchase tickets to Brian Ganz's sixth installment of his "Extreme Chopin" performance at the Music Center at Strathmore on Jan. 9, visit nationalphilharmonic.org or call the Strathmore ticket office at (301) 581-5100. More information on Ganz is available at http://www.brianganz.com. Tickets for kids 7-17 are FREE through the ALL KIDS, ALL FREE, ALL THE TIME program ALL KIDS tickets must be purchased in person or by phone. Parking is free.
# # #
Photo Cut line: The talents of pianist Brian Ganz and mezzo-soprano Magdalena Wór will come together at Strathmore to perform Chopin's little heard songs on January 9. Ganz is continuing his decade long "Extreme Chopin" quest to perform all of Chopin's 250 compositions.
Photo Credit: Jay Mallin