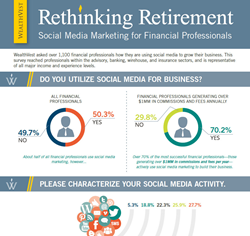 San Francisco, California (PRWEB) January 07, 2016
The WealthVest study and full findings have been released in the January 2016 Issue of FA Magazine and reveal that the vast majority of financial professionals (90%) believe that social media is or could be valuable to their business. And they're right. Over 50% of advisors are actively using social media. Most tellingly, of advisors in excess of $1 mm in annual revenue, 69% use social media marketing in their practice. Click here to view the full article in FA Magazine.

79% of financial advisors are active weekly on Facebook and 89% of advisors are active weekly on LinkedIn.
66% use social media to improve their professional brand, while 61% are focused on generating leads and prospects.
58% of all advisors are seeing results from social media marketing in their first year and 20% are seeing results almost immediately.
These largest producers are increasingly allowing social media marketing to dominate their practice marketing:

Over 30% see almost immediate results from social media marketing.
21% are marketing their practice with paid social media marketing or sponsored social media posts.
50% of the largest producers invest over $100 per month with LinkedIn.
Significant hurdles still prevent financial advisors from optimizing social media marketing for their professional practice:

43% do not have access to high-quality compliant material for consumers.
65% of advisors are interested in services that would post compliant material on their behalf.
Further, although only 11% feel social media is not valuable to their business, the remainder are put off by the complexity:

30% view social media as a waste of time and productivity.
36% simply do not know where to begin.
Over 32% do not have sufficient time to create content.
29% feel compliance takes too long.
The rewards are rich, as the study results suggest the more active a representative is on social media, the greater the benefit is to his or her practice when it comes to attracting new clients, increasing assets under management, and improving revenue streams. Financial professionals who consider their social media usage "extensive" acquired 37% of their new clients last year on social networks like LinkedIn, Facebook and Twitter. Click here to view the findings of the Social Media Marketing Study.
"We recognized these impediments to successful social media marketing, and that is why we developed Gainfully---the first totally free social media marketing platform for financial advisors," stated Cameron Nordholm, CEO of Gainfully. "Gainfully now has over 40,000 pieces of fully compliant consumer material and will automatically link to the compliance systems of broker-dealers. We believe the most successful financial advisors by definition will be those who are most active on social networks."
Lincoln Collins, President of WealthVest, added, "Over 2,000 advisors have already established Gainfully accounts to build their practice. WealthVest has created sophisticated campaigns that allow advisors to make 4 million digital impressions a year, if they have 1,000 prospects and clients. And WealthVest will do all the work for them for the entire year—for free. We believe Gainfully is the easiest, simplest and cheapest way for financial advisors to become social media experts, and WealthVest will do all the work."
Collins also added that, "Gainfully is also free for broker-dealers, because mutual fund companies, variable annuity companies, and other product manufacturers seeking to leverage the social media activity of advisors, are funding the cost of content, therefore, Gainfully is the best social media marketing package for both advisors and their firms."
For financial professionals who underuse social media as a marketing tool, compliance concerns, time constraints and simply not knowing where to begin were the largest roadblocks cited in the study. Platforms like Gainfully now make social media marketing simple, providing thousands of marketing pieces and even automating the process of sharing them with leads and prospects. Click here to create your free Gainfully account today.
WealthVest is a financial services distribution firm specializing in training financial professionals in the essential building blocks of retirement planning. WealthVest provides the research and tools to help financial professionals, and their clients, plan for retirement.
Gainfully, based in San Francisco, CA, is a social media marketing platform designed for financial professionals and back office compliance teams. Gainfully provides financial professionals with 40,000 marketing pieces from 300 content providers within the financial services industry. In addition to providing marketing material, Gainfully allows financial professionals to automate their social media marketing strategy.