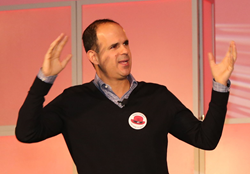 "My number-one asset is vulnerability," said Marcus Lemonis at the ASI show. "It is the key to success."
Orlando, FL (PRWEB) January 06, 2016
An overflowing crowd of entrepreneurs at the ASI Show® Orlando trade show applauded keynote speaker Marcus Lemonis on Wednesday for advising them that vulnerability is the real key to business success.
"You don't hear this stuff on my show, you won't read about it in interviews I do, but this is who I am," said The Profit reality show host and business turnaround king during an up-close-and-personal address to nearly 1,000 members of the $22 billion promotional products industry. "I was fat as a kid. I was bullied. I had an eating disorder. I was molested by a relative. I'm telling you all this because my number-one asset is vulnerability. It is the key to success."
Lemonis strode into the rapt audience at the Orange County Convention Center and asked people to stand and reveal their own vulnerabilities, challenges and fears. Being honest, he said, is a conduit to stronger connections with employees, coworkers and prospective clients. "If you can, leave here today and be more transparent and more human," said Lemonis, who advises and often invests in small businesses on his CNBC TV show.
The adopted son of a Miami couple, Lemonis – who was born in Lebanon – started out buying a few RV dealerships and grew the enterprises into the $3 billion Camping World. After his presentation, he also toured the show floor, visiting with numerous exhibitors and distributors while gathering business cards, answering questions and taking photos.
"I'll be sharing this tip with our salespeople: be more vulnerable, don't be so salesy, and get to know someone on a more personal level," said Cheryl Hokanson of Ironmark.
The Lemonis keynote was a highlight of ASI Show Orlando (#asiorlando), hosted by the Advertising Specialty Institute® (ASI) January 4-6. The annual trade show attracted 715 exhibitors and nearly 6,000 attendees from 49 states and 18 countries.
"I was delighted that Marcus emphasized the importance of authentic personal relationships to business success," said Rita Ugianskis-Fishman, vice president and general manager of ASI Show. "At a time when so many of us are devoted to our devices, it's more critical than ever to take full advantage of the face-to-face relationships you can really only build at trade shows like the ones ASI hosts in Orlando, Dallas and Chicago."
Suppliers, distributors and decorators gathered in Orlando to check out the latest promotional products, close deals, take classes and attend networking events like ASI's Gala Celebration at SeaWorld, which closed to the public for the exclusive private party.
Busy suppliers raved about the show floor traffic. "We did our first ASI Show four years ago and our business went from being a hobby to a real business overnight, and we attribute that to ASI Show Orlando," said Gino Gavoni, Brand O'Guitar Company. "It has the most traffic out of any other industry event and it has been the most profitable for us."
Tuesday night at the show, ASI's Counselor® magazine celebrated the winners of the 2016 Distributor Choice Awards.
To determine supplier winners in 55 categories, distributors cast more than 50,000 votes. Brighter Promotions took home the top prize: 2016 Counselor Supplier of the Year. "We're honoring Brighter Promotions with this prestigious award because distributors swear by the quality of their products and their exceptional customer service," said ASI president and chief executive officer Timothy M. Andrews during the ceremony.
"We couldn't be happier with ASI Show Orlando," said Andrews. "We delivered a hundred new exhibitors while ensuring that everyone at the show enjoyed plenty of opportunities to make new connections and grow their business."
Promotional products are logoed items like caps, T-shirts and pens often given away by companies, school and non-profits to advertise their brand, business or event, and to thank employees and clients.
For complete coverage of the show, visit http://www.asicentral.com.
About ASI
The Advertising Specialty Institute (ASI) is the largest media, marketing and education organization serving the promotional products industry, with a network of over 25,000 distributors and suppliers throughout North America.