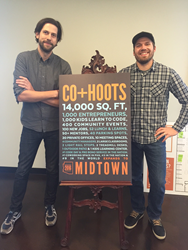 I truly believe the best years for technology in Phoenix are ahead.
Minneapolis, Minnesota (PRWEB) January 07, 2016
Ackmann & Dickenson (A&D), a web, application development, and digital marketing firm, are pleased to announce the opening of their second office in Phoenix, Arizona.
They will be utilizing CO+HOOTS as their home base - downtown Phoenix, Arizona's premiere collaborative co-working space. According to the CO+HOOTS press release, "The shared office space was named number nine this September in an Ubiq list of the best co-working spaces in the world. This is the company's third time expanding to accommodate their growing number of entrepreneurs."
Before deciding on Phoenix, A&D considered Denver, Atlanta, Austin, and Chicago. The decision to make Phoenix their second home centered on a few key qualifiers. A burgeoning tech scene, several large healthcare and financial institutions, and close proximity to A&D's West Coast clients made Phoenix especially attractive.
"We have been very fortunate to have grown the business to this extent," says Andrew Dickenson, co-founder of A&D. "Expansion into new markets is certainly part of our strategic vision and Phoenix is part of that plan."
Two of A&D's most senior and tenured employees relocated to oversee the Phoenix location: Manager of Interactive Design Mark Schumacher and Manager of Software Development Jason Bucki.
"I truly believe the best years for technology in Phoenix are ahead," says Mark Schumacher. "From mobile app development to web development, we are thrilled to introduce A&D's brand of digital craftsmanship."
There are plans to begin hiring additional employees for the Arizona office in the coming months.
"Phoenix has an impressive talent pool," says Jason Bucki. "Coupled with its thriving tech scene, it's the perfect location for expansion."
Ackmann & Dickenson (A&D) is an application development and digital marketing firm that delivers tailored technology solutions. A&D's unique breed of digital craftsmanship has brought organizations to the forefront of technology by providing expertise in mobile and web development, user experience design, and digital marketing.