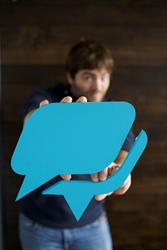 Business owners still struggle to reach qualified customers. What's the solution? Text marketing.
Jamestown, NY (PRWEB) January 14, 2016
In a world where digital marketing options are plentiful, Slicktext.com strives to break through the noise and offer innovative solutions for small business owners on a budget. With that said, the mobile industry experts from the Slick Text team have labeled 2016, "the year of the text message."
After analyzing tons of data from the year past, the following statistics support this upcoming trend. First things first, 99% of all text messages are opened within five minutes or less. On top of that, 95% of all text messages are actually opened within five seconds. In addition, the average American actually looks at his/her cell phone 150+ times a day. Text marketing also has the potential to reach a second tier of interested subscribers, as 22% of mobile offers are then forwarded to family and friends.
Taking all these statistics into consideration, Matt Baglia, founder and CEO of SlickText.com, knows that "...it's time for text marketing to have a moment in the spotlight. With all media habits and communication trends pointing towards mobile, there's no reason why business owners should struggle to reach qualified customers. We want to be the company that bridges the gap between old and new technology, using a product that makes text marketing success borderline inevitable."
Slick Text is proud to announce their next feature coming down the pipeline: mobile coupons. These mobile coupons will include a click to call option, redemption countdown ticker, and more. To partner with this new development, some noteworthy features released in 2015 included drip campaigns, email capture, and email integration.
In 2016, Slick text will continue to prioritize innovation and rich feature development.
Head over to SlickText.com and sign up for a free text marketing plan.