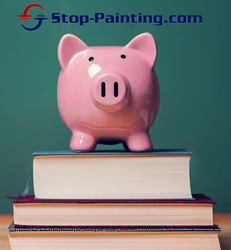 Today's students are tomorrow's business leaders. These are the kids that will build, manage and own the businesses in the next few decades.
Raleigh, North Carolina (PRWEB) January 12, 2016
InSite Solutions LLC (DBA Stop-Painting.com) is pleased to announce its annual scholarship essay contest for 2016.
In addition to supporting school fabrication labs, mock warehouses and educational facilities by supplying Stop-Painting.com floor and wall marking products, the company is excited to award a yearly scholarship aimed at providing financial aid to a student currently enrolled in an accredited technical college, university or related program.
InSite Solutions LLC owner and director Cliff Lowe hopes the $1,000 scholarship will help fund a future 5S lean company-owning student.
"I love to hear from our customers or schools we've donated products to, and learn about how these kids are being taught about visual organization principles and 5S/lean practices," Lowe said.
The company is seeking smart, talented college students to compete for the $1,000 scholarship by writing an on-point essay, using the following prompt:
At InSite Solutions, we believe that superior organization and clearly defined visual cues help pave the way for increased productivity, both in the workplace and at home. How do you use organization and visual cues to simplify your life?
The winning essay will be between 500-1,000 words, be well-written, well-researched, credible, interesting and show off your writing talents.
With an emphasis on selecting candidates who show an understanding of organization and how visual cues support this, both in the workplace and life in general, InSite Solutions LLC aims to support students who exemplify exceptional responsibility, leadership skills and a key understanding of Stop-Painting.com's products and ethos.
The $1,000 Stop-Painting scholarship is open to any student currently enrolled in an accredited college, university or other related technical program, and does not discriminate on the basis of race, color, national or ethnic origin, ancestry, age, religion or religious creed, disability or handicap, sex or gender, military or veteran status, or any other characteristic protected under applicable federal, state or local law.
If you know of a student or students who may want to apply, please direct them to our website for all the rules and application materials.
---
InSite Solutions LLC (DBA Stop-Painting.com) is a leading manufacturer of indoor and outdoor marking tapes and signs. These products are alternatives to painting concrete floors and pavement, and offer a maintenance-friendly solution that is both easy to install and remove. Headquartered in Wake Forest, N.C., InSite Solutions LLC offers thousands of traffic control and industrial safety supplies on its ecommerce website, Stop-Painting.com.