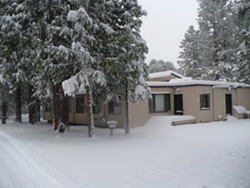 Many people assume centers like ours are closed during the winter months. ~ Laurie Chamberlin
Petaluma, CA (PRWEB) January 11, 2016
This time of year groups are encouraged to enjoy the beautiful winter season through large picturesque windows with the comfort of a warm fireplace, delicious comfort food, and walks through a wintry forest. The indoor retreat can be a great time for inner reflection which many camp-goers seek.
UCCR is currently offering specials at two of their camp facilities, Camp Cazadero in the Sonoma hills, and Community of the Great Commission in the Sierra Nevada foothills.The seasonal specials typically include two nights and five meals.
"Many people assume centers like ours are closed during the winter months. Yet at a staff retreat recently I saw the passion and dedication of the site directors at Camp Cazadero and Community of the Great Commission. With years of experience, they are both humbled by the impact retreats and conferences can have on people. This remains core to their motivations of hosting successful events and gathering." says Laurie Chamberlin, Marketing Associate at UCCR.
Many retreat centers offer a variety of packages to meet any budget and allows for customization to add uniqueness. For more information contact UCCR or 800-678-5102.