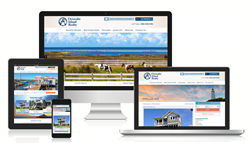 With the increase in mobile internet use in recent years, it was paramount that our new site was both responsive and easy to use.
Outer Banks, NC (PRWEB) January 08, 2016
For more than 30 years, Ocracoke Island Realty, the largest vacation rental and sales company on Ocracoke, has been serving vacationing guests on this remote and magical island in the Outer Banks. Their newly designed website, OcracokeIslandRealty.com, has a clean, visually engaging, responsive design making it easier than ever for guests to book their Ocracoke Island vacation home. With a robust online booking engine, a real-time reservations calendar, and interactive property maps, users have access to the latest features in the industry. Working closely with the team at Ocracoke Island Realty, the new website was designed and built by Bluetent, an award-winning digital marketing agency based in Carbondale, Colorado, which specializes in travel, tourism and hospitality marketing.
"We are fortunate to have a large number of repeat vacationers, and with the increase in mobile internet use in recent years, it was paramount that our new site was both responsive and easy to use so that guests can book a home any time no matter where they are," explained Jack Whitehead, General Manager for Ocracoke Island Realty.
Ocracoke Island Realty's partner company, Village Realty, saw a 235% increase in mobile online conversions their first year after making the same change to a responsive website.
Another innovation the company recently completed was the implementation of V12-NET, the most advanced, comprehensive reservations program available in the property management industry. On-site training was provided to employees, helping them become proficient with the program so that when V12-NET went live in November of 2015, they were very well prepared. The software upgrade promises to improve the accuracy of information sharing within the company, which will ultimately result in an improved experience for guests and homeowners.
Ocracoke Island Realty manages more than 300 vacation rental homes on the island. Additionally, Ocracoke Island Realty sales brokers can help you find the perfect second home or investment property. Ocracoke Island Realty's website allows you to search all of their listings and the entire Outer Banks MLS database.
Their office is located at 1075 Irvin Garrish Highway and is open seven days a week from 9 am to 5 pm. For more information, visit http://www.OcracokeIslandRealty.com or call the main office at 877.684.5035.