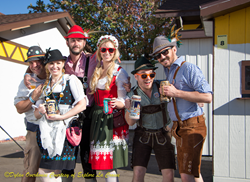 Festivals are integral in sharing the culture and heritage of the area
La Crosse, WI (PRWEB) January 11, 2016
On Thursday, January 21, 2016, at 3:00 P.M., Explore La Crosse will hold an informational meeting regarding its 2016 Festival Marketing Campaign at its downtown La Crosse offices (410 Veterans Memorial Drive, La Crosse).
Participants will have the opportunity to learn about strategies and plans for promoting area festivals in the coming year. The meeting is open to all organizers, committee members, and coordinators involved in planning festivals in the greater La Crosse area.
The City of La Crosse and its neighboring communities boast a number of popular festivals, including Oktoberfest, Irishfest, and the Between the Bluffs Beer, Wine, and Cheese Festival. "Festivals are integral in sharing the culture and heritage of the area," says Brent Hanifl, Director of Media & Membership for Explore La Crosse. These celebrations are a vital component of the area's tourism, recreation, and hospitality industries. Festivals give residents and visitors alike the opportunity to enjoy the area's renowned natural beauty alongside its wide variety of celebrated business and services.
Quick Facts:
What: 2016 Festival Marketing Campaign Informational Meeting
Where: Explore La Crosse, 410 Veterans Memorial Drive, La Crosse, WI 54601
When: Thursday, January 21, 2016, 3:00 P.M.
Who: All organizers, coordinators, and committee members involved in planning area festivals
Those interested in attending may RSVP to:
Brent Hanifl
Explore La Crosse
Director of Media & Membership
608.782.2281
hanifl(at)explorelacrosse.com