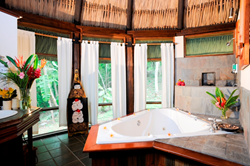 We're here to help travellers create the perfect vacation–one that suits their own interests, levels of activity and budgets.
San Ignacio, Belize (PRWEB) January 10, 2016
The Lodge at Chaa Creek has begun the year with the announcement of 12 new monthly special offers designed to suit a wide range of interests and budgets, according to the Belizean eco-resort's marketing administrator.
"We kicked off last year with a new website to make it easier for travellers to explore Belize and Chaa Creek online, and to help in planning vacations," Mr. Harrison said, adding that, "This year, we're following through on that by posting a year's worth of monthly specials."
Mr. Harrison said that the monthly offers, beginning with a "Winter Warmer" for January through to December's "Jungle Bells," have "something for everyone" and provide significant savings of up to 50% off.
"We understand how in today's busy world, planning a holiday can be a logistical and financial challenge. We wanted to make it easier for people to plan ahead, and to enjoy some savings in the process," he said.
The Chaa Creek specials cover a range of vacation options, from all-inclusive Belize vacation packages, including Rainforest-to-Reef holidays where guests split their time between Chaa Creek's inland attractions and partner resorts on Belize's Caribbean coast and islands, to events such as Mother's Day and other themed vacations, Mr. Harrison explained.
"We're inviting people to take a virtual tour of Chaa Creek through the website, and then visit the Monthly Specials page. We think travellers will be pleasantly surprised at how affordable a complete and secure Belizean vacation can be.
"Over the years, Chaa Creek has evolved as Belize's own destination-within-a-destination due to accommodations that range from eco-luxe suites to the more rustic Macal River Camp, a wide selection of onsite activities, and amenities that include a true farm-to-table restaurant, an internationally recognised spa, natural history museum, butterfly farm, equestrian centre, infinity pool and more.
"And with our long established network of colleagues in Belize and Guatemala, our all-inclusive Belize vacation packages offer the most comprehensive, hassle free and affordable ways to experience Belize and the region. Travel industry professionals regard Chaa Creek as something of a destination management company, as we're able to coordinate tours, excursions and special packages that cover a wide range of interests, from Maya temple and sacred cave exploration to Caribbean swimming, diving and beach adventures, destination weddings and honeymoons, birding, river trips and pretty much anything a traveller to Belize could ask for," he explained.
Mr. Harrison said that anyone interested in Belize would do well to visit Chaa Creek's website and their Belize Travel Blog and use them as resources to become familiarised with the country and region. They may then wish to enquire further with specific questions or requests.
"We're here to help travellers create the perfect vacation–one that suits their own interests, levels of activity and budgets. As a family owned and operated eco-resort, we're sensitive to the different interests of various family members, and we're the only resort I know of with a designated 'Adventure Romance' team to help couples plan anything from destination weddings to intimate romantic getaways. Our team of licenced naturalist guides can open up Belize's fascinating natural world and rich Mayan heritage, conduct guided birding, nature walks and riverine canoe trips, and our onsite amenities ensure plenty of quality time for relaxation in a hammock or lounging around the infinity pool.
"I can't think of a better way to begin the new year than to start exploring Belize online with us, checking out the monthly specials, and then planning a vacation people will remember forever. It's the best way to chase those end-of-Christmas holiday blues and get through that gloomy February weather up north," Mr. Harrison added.
The Lodge at Chaa Creek is a multi award winning eco resort set within a 365-acre private nature reserve along the banks of the Macal River in Belize.