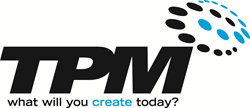 Greenville, SC USA (PRWEB) January 11, 2016
TPM, Inc. (http://www.tpm.com), the Southeast's leading 2D and 3D design technology provider, announces two new 3D printing partnerships to create the largest and most complete 3D printing product portfolio in the region. These two new partnerships include Waltham, MA based MarkForged (http://www.markforged.com) and Costa Mesa, CA based Airwolf 3D (http://www.airwolf3d.com).
MarkForged is the world's first 3D desktop printer capable of printing continuous carbon fiber, Kevlar, and fiber glass enabling innovators to create plastic parts that are as strong as aluminum.
Airwolf 3D, a leading manufacturer of professional-grade desktop 3D printers, enables engineering departments to migrate from centralized back-room 3D printing to de-centralized desktop 3D printing with high quality parts and breakthrough speeds.
"These two new partnerships, alongside our existing relationship with industry giant 3D Systems, will allow TPM to bring the most complete and advanced product portfolio of 3D Printing technology to the marketplace at a starting price well under $10,000. Coupled with our SOLIDWORKS software solutions and other adjacent services, TPM can impact and improve the entire engineering design and manufacturing ecosystems for our customers," said Chris Fay, Vice President of TPM, Inc. "Our customers are demanding a more flexible and easy to use 3D printing solution that can be spread throughout an engineering department. These two new desktop solutions allow a distributed 3D printing model whereas multiple smaller printers are being utilized by a group of designers as opposed to one large centralized piece of equipment."
"We are excited to partner with TPM, a leading 3D CAD solutions provider to engineers and product designers. Together we can bring affordable 3D printing to the desks of many professionals and students. The Mark One 3D printer is the only desktop 3D printer on the market that can print parts with a higher strength-to-weight ratio than metal. We are looking forward to sharing this exciting technology with new users in this growing marketplace and discovering new applications along the way alongside TPM," says Gregroy Mark, Founder/CEO of MarkForged.
"Airwolf 3D is pleased to announce that TPM, one of the Southeast's leading providers of 3D software and hardware technology, has joined the Airwolf 3D 'Pack' of authorized full-line resellers" says Mark Mathews, president of Airwolf 3D. "TPM shares the same vision and values as Airwolf 3D - to be the premier provider of 3D technology to engineers and educators, backed with a commitment to providing outstanding customer service and support. We could not be more excited about this partnership and what it brings to Airwolf 3D and TPM customers."
About TPM, Inc.
TPM, Inc. is headquartered in Greenville, SC with offices in Columbia, SC, Charleston, SC, Charlotte, NC, and Raleigh-Durham, NC. TPM is the Southeast's leading provider of 2D and 3D design technology alongside partners that include SOLIDWORKS, Autodesk, HP, Canon, Oce, and many more. TPM serves more than 3,300 customers each year with technology solutions, training, consulting, and implementation services. For more information, visit http://www.tpm.com.