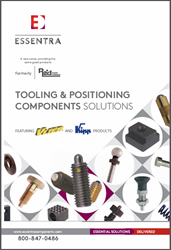 Many of these tooling and positioning components now also feature new (and better) pricing.
Muskegon, MI (PRWEB) January 11, 2016
The catalog includes components, tools and equipment to provide industrial supplies for many industrial applications. It details over 5,000 spring-loaded devices and plunger designs in full color.
Many of these tooling and positioning components now also feature new (and better) pricing.
With increased buying power, Essentra is purchasing in even larger volumes and obtaining even greater price reductions from certain suppliers. Along with a regular review of market pricing on these products to ensure competitiveness, the new pricing structure offers even greater savings.
The new Positioning & Tooling Components Solutions Catalog from Essentra Components is a must-have resource for any industrial designer, production engineer or mechanical engineer. These products are ideally suited for designs that require positioning, indexing, detenting, holding and ejecting. The component, tools and equipment product groups include:

Die and mold components
Hand-retractable spring plungers
Indexing plungers
Locating and positioning components
Press-fit and push-fit spring plungers
Set-up clamps and accessories
Springs
Threaded spring plungers
Work supports, grippers, rests and stops
These products are available from Essentra Components, formerly sold under the Reid Supply brand, and include two popular product brands of industrial supplies and products:
Vlier – An industry leader in spring plungers and mechanical components for over 50 years, Vlier manufactures products in a variety of sizes and materials to suit any application. Every item has been engineered to provide the lowest cost and maximum value in productivity and dependable performance.
Kipp – A reliable partner to industry for over 100 years, Kipp is well recognized for setting new standards in the area of clamping tools, standard components and operating parts. Kipp focuses on product consistency, high quality and providing a long service life by developing all products in-house with stringent QA requirements.
This special 84-page color catalog contains mechanical drawings, size specifications and other descriptive information for each product, and is available to download at:
HTTP://US.ESSENTRACOMPONENTS.COM/SHOP/ORDERCATALOGUESDISPLAY?CATALOGID=10051&LANGID=-1&STOREID=10152. Select "Tooling & Positioning Solutions" to download the pdf catalog, or you may also order a hard copy catalog.
For more information on Essentra Component products, visit: http://us.essentracomponents.com/
About Essentra Components
Essentra Components manufactures and distributes small, essential components, such as protective plastic caps, workholding clamps, fasteners, handles & knobs and PCB hardware.
As part of its Vision 2015 strategy, three companies: Alliance, Reid Supply, and Richco Inc. were joined together to form Essentra Components America. This provided our customers with a vast selection of industrial components with regional distribution sites across America and an international network extending to Europe, the Middle East, Africa and Asia Pacific regions, including 42 principal manufacturing facilities, 64 sales and distribution operations and 5 research/development centers.
Essentra Components offers over one billion parts stocked with fast same-day shipping. We offer free sampling on many standard products, and free CAD drawings for all catalog items.
Browse online Essentra Component product categories and/or request a free catalog.
About Essentra plc
Essentra plc is a FTSE 250 company and a leading global provider of high volume, essential components and solutions, which serve customers in a wide variety of end-markets and geographies. Headquartered in the United Kingdom, Essentra's global network extends to 33 countries and includes 9,000 employees, 69 principal manufacturing facilities, 64 sales and distribution operations and 5 Research and Development Centers. For further information, please visit http://www.essentra.com.
Essentra Press Contact
Joan Sherburn
Marketing Services Manager
Essentra Components
Phone: 231-767-3711
Address: 2265 Black Creek Road, Muskegon, MI 49444