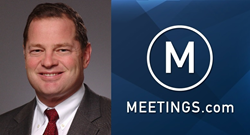 Meetings.com will cater to independent planners, corporations and associations that need a comprehensive suite of sourcing tools and the structural support to deliver great service
West Palm Beach, FL (PRWEB) January 11, 2016
Meetings.com is focusing on providing hotel and venue sourcing technology and sales/support services to professional meeting, event and group planners worldwide. Meetings.com is now a cloud based open system, providing all types of event planners with the ability to run their hotel and event sourcing business through the site. The technology features cutting edge RFP sourcing plus utilizes Instant Offers and e-Contracting to facilitate the booking process.
Ross Hosking, former Executive Vice President of Wyndham Sales Worldwide is taking the role of President of Meetings.com. Mr. Hosking's experience within the hotel industry in executive level positions with Wyndham and Starwood is a natural fit to lead the brand. "Meetings.com will cater to independent planners, corporations and associations that need a comprehensive suite of sourcing tools and the structural support to deliver great service," stated Mr. Hosking.
Meetings.com users may utilize a skilled event planning team located worldwide and access reporting and business operating modules that make the group booking process faster and easier. Meetings.com offers robust technology for individual travel, extended stay and government travel to provide a complete hotel sourcing and booking solution for planners and their clients.
"Meetings.com is now faster, easier and offers a more comprehensive service than ever before," stated Tim Hentschel, CEO of HotelPlanner. "With guaranteed lowest rates, our clients consistently save an average of up to 25% off the rate of the day for their group events. Plus, offering a wide solution set allows planners and event specialists to meet all their hotel sourcing needs for their clients or business.
Meetings.com's mission is to be the premier company to provide services and information to book corporate meetings, and business travel. Now Meetings.com is allowing third parties, corporate and other travel bookers access to its technology. "Corporations, associations and independent meeting planners will have the ability to customize the technology for different organizations based on event types," continued Mr. Hentschel.
About Meetings.com
Meetings.com focuses on business travel and helping corporate event planners book space for meetings plus hotel rooms. Through direct, collaborative relationships with the leading meeting and banquet venues around the world, Meetings.com will quickly find clients the perfect space and the best price. Combining technology with an experienced worldwide client-focused team, Meetings.com provides exceptional service to help each client select the optimal venue and/or develop an exclusive corporate hotel travel program always delivering the best price for their hotel travel needs. With a global team of travel specialists specializing in specific markets plus robust sourcing/hotel booking tools HotelPlanner is a one stop shop for all hotel program needs. Founded in 2002, the company has offices in in West Palm Beach, FL (USA Headquarters), Las Vegas, Nevada, London, England, (European Headquarters) and Hong Kong (Asia Headquarters). Meetings.com is wholly owned subsidiary of HotelPlanner.
For more information, please contact Bruce Rosenberg at (818) 661-0244 or via email at Bruce(dot)Rosenberg(at)hotelplanner(dot)com