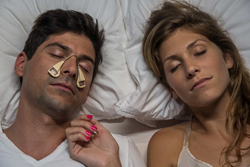 We're very thankful for all of the support we received during our campaign. The number of backers and overwhelming positive feedback we have received serves as a strong validation for our product
San Francisco, CA (PRWEB) January 11, 2016
Silent Partner, the first noise cancellation SmartPatch for quieting snoring noise has completed its very popular and successful crowdfunding campaign on Indiegogo with an impressive final tally of over $262,000.
More than 3,800 backers supported the project, which provides a quiet night's sleep for those suffering with a snoring partner. The innovative Silent Partner SmartPatch will now be available for pre-order on Indiegogo InDemand. InDemand is a platform for successful crowdfunding campaigns to continue to meet consumer demand and take pre-orders from new backers.
Silent Partner SmartPatch utilizes Active Noise Cancellation technology (ANC), which senses the snoring sound and emits a counter sound, to cancel the undesirable one. Silent Partner's innovation promises to improve sleep for people everywhere.
"We're very thankful for all of the support we received during our campaign. The number of backers and overwhelming positive feedback we have received serves as a strong validation for our product," said Silent Partner SmartPatch co-creator Yoni Bazak. "We look forward to shipping our SmartPatch in 2016 and helping our backers get a good night's sleep."
It's estimated that 90-million American adults are affected by Snoring, with, 37-million snoring on a regular basis.
Silent Partner is a lightweight, compact and non-intrusive SmartPatch that finally resolves what other products don't – the snoring noise. Most anti-snoring products use intrusive and uncomfortable masks, mouth or nose pieces. Silent Partner eliminates the noise and is unobtrusive and comfortable to wear.
Its flexible design adapts to faces of all shapes and sizes. The hypoallergenic medical-grade adhesive will keep the device in place comfortably over your nose while you sleep. Other features include:
● Comprised of two compact penny-size components that you gently secure on your face.
● Uses only acoustic sound, similar to headphones, so there's no electronic emissions.
● The adhesive that touches your face is a medical-grade hypoallergenic adhesive and is re-usable up to a month. The kit contains 14 such adhesives.
● The frequency of the emitted sound is such that you will not feel any vibrations.
● The device contains a rechargeable hearing aid battery which will last all night. To charge the device, plug the Silent Partner into an outlet using a micro-USB wire and a standard mobile phone charger.
For more information, and to pre-order the Silent Partner SmartPatch visit: http://www.silent-partner.co/
How Silent Partner Works:
Silent Partner senses the amplitude and frequency of the snoring and broadcasts in real-time, a sound wave with an inverted phase. Based on the physics phenomena of destructive interference, the two waves line up, essentially canceling out each other's sound. The innovative "subwavelenght active noise cancellation" technique enables a more accurate noise reduction around the snoring person, which is effective from as close as 20cm away.