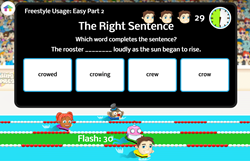 (PRWEB) January 12, 2016
Blake eLearning, the educational publishers of the popular children's reading program, Reading Eggs, have recently launched the highly-anticipated new release of Reading Eggspress.
Designed for children in grades 2 – 7, Reading Eggspress follows on from Reading Eggs, covering essential comprehension, spelling, grammar, and vocabulary skills.
The research-based program provides a highly structured and rewarding learning experience for children at home and in the classroom, and is now compatible with the iPad and other tablet devices.
The Reading Eggspress lessons match to each child's grade level, and children can progress at their own pace with highly interactive one-on-one reading lessons and a balance of literature and informational texts. The new program features simpler navigation on all devices, hundreds of new library titles, and access to detailed assessment reports to track learning progress.
The program also includes a brand new English Skills section, with 216 spelling lessons and another 120 grammar lessons set to be released in 2016. The new spelling lessons teach students to recognize common spelling patterns, generalizations, and strategies, using a combination of videos, interactive activities, rewards-based games, and hundreds of printable activity sheets.
Students can earn trading cards, trophies, and rewards as they progress through the lessons, which they can later use to purchase fun arcade games and items for their own avatar and in-game apartment. They can also enjoy live games in a multiplayer arena, where students can compete against their classmates, school or other students from around the world. The Stadium includes four different arenas where students can select to test their skills in spelling, vocabulary, grammar, or usage.
The new Reading Eggspress has already been rolled out in a number of selected schools across the United States, and has just been released to the home market for families and homeschoolers.
For more information or to start a free trial, please visit http://readingeggspress.com/newrex.