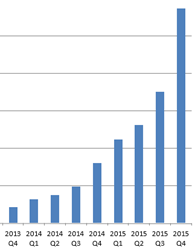 Ninety-one percent of data breaches are caused by phishing and spear-phishing, a common tool in the hacker arsenal. -- Stu Sjouwerman, CEO KnowBe4
Tampa Bay, FL (PRWEB) January 11, 2016
KnowBe4 announced its explosive year over year growth of 358% for Q4 2015, with a record number of new corporate accounts and a stellar customer retention rate of over ninety percent. Fueling this growth is the strong demand for its Kevin Mitnick Security Awareness Training and integrated phishing platform. KnowBe4 has seen 2014-2015 annual growth of over 350% and consecutive growth for a record 10 straight quarters with an impressive 950% growth rate since 2011. Rapidly rising scams such as the Business Email Compromise (BEC) and new ransomware strains targeting businesses have helped propel the need for a better way to manage the problem of social engineering.
KnowBe4 helps IT pros to better manage this problem, training users to recognize social engineering red flags and utilizing a robust platform of tools that enable IT to send simulated phishing emails to users who can be given immediate remedial training. Users can also use the built-in Phish Alert Button to send any suspicious email to IT. This gives IT an added "human firewall" layer of defense and contributes to a strong security culture.
"IT managers are grateful, as they are being recognized as helpful coworkers rather than the network police," said KnowBe4 CEO Stu Sjouwerman. "It fosters cooperation and an overall improvement in security."
"Ninety-one percent of data breaches are caused by phishing and spear-phishing, a common tool in the hacker arsenal," said Sjouwerman. "Many companies have found that old school annual training using a 15 minute PowerPoint presentation with coffee and donuts to keep employees awake doesn't work. IT managers and CISOs are increasingly choosing KnowBe4 because we get results," said Sjouwerman.
"Risk managers know it is far cheaper to train users than pay the fines and heavy costs associated with a data breach, estimated by Juniper Networks to account for $2.1 trillion dollars by 2019," noted Sjouwerman.
As a result, security awareness training has gone from the lunchroom to the boardroom in priority, exceeding a billion in worldwide annual revenue as per Gartner.
Lloyd's of London estimated cybercrime costs businesses as much as $400 billion a year, a staggering amount by any standard. This doesn't take into account hacks and breaches that are unregulated and unreported.
"People are used to having a technology solution [but] social engineering bypasses all technologies, including firewalls. Technology is critical, but we have to look at people and processes. Social engineering is a form of hacking that uses influence tactics," said KnowBe4's Chief Hacking Officer Kevin Mitnick.
For more information, visit http://www.KnowBe4.com
About Stu Sjouwerman and KnowBe4
Stu Sjouwerman (pronounced "shower-man") is the founder and CEO of KnowBe4, LLC, which hosts the world's most popular integrated Security Awareness Training and Simulated Phishing platform. A data security expert with more than 30 years in the IT industry, Sjouwerman was the co-founder of Inc. 500 company Sunbelt Software, a multiple award-winning anti-malware software company that was acquired 2010. Realizing that the human element of security was being seriously neglected, Sjouwerman decided to help organizations manage the problem of cybercrime social engineering tactics through new school security awareness training. More than 2500 organizations in a variety of industries, including highly-regulated fields such as healthcare, finance, energy, government and insurance have mobilized their end users as a first line of defense using KnowBe4. Sjouwerman is the author of four books, with his latest being "Cyberheist: The Biggest Financial Threat Facing American Businesses."
About Kevin Mitnick
Kevin Mitnick, 'the World's Most Famous Hacker', is an internationally recognized computer security expert with extensive experience in exposing the vulnerabilities of complex operating systems and telecom devices. He gained notoriety as a highly skilled hacker who penetrated some of the most resilient computer systems ever developed. Today, Mitnick is renowned as an information security consultant and keynote speaker and has authored four books, including The New York Times best seller Ghost in the Wires. His latest endeavor is a collaboration with KnowBe4, LLC as its Chief Hacking Officer.