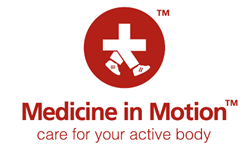 It's all about small but sustainable adjustments.
Austin, TX (PRWEB) January 13, 2016
It's crunch time. New Year's resolutions have been made, and, with January half over, some resolution-makers' resolve may be beginning to waiver. When immediate results aren't seen or the resolutions turn out to be more time-consuming and troublesome than they seem to be worth, it's easy to let them start to slide. What does it take to go the distance? How do those who meet their goals actually do it?
"It's all about small but sustainable adjustments," said Dr. Martha Pyron, Austin sports medicine doctor and owner of Medicine in Motion. "Many people make big goals like to lose 50lbs or drop three dress sizes, but those big picture resolutions can be overwhelming and discouraging when significant improvement isn't immediately noticed. Instead, incorporate smaller changes that will affect your overall health and wellness goals. Altering one's diet is one of the absolute best ways to get on track to that new you in the New Year."
With small but significant nutritional changes in mind, Dr. Pyron has 10 suggestions to put those resolutions on the right track:
1. Practice portion control. Whether cooking at home or eating out, make a conscious decision to limit the food on the plate to reasonable portions. Use smaller plates, if that helps trick the mind into the new routine. Eat until satisfied, not until full. Feel free to load up on as many vegetables as desired, though.
2. Minimize artificially sweetened foods. Check labels for ingredients. Skip foods that contain aspartame, saccharin and sucralose – they may be calorie-free, but research links them to major problems in some people like migraines, stomach sensitivity and weight gain. When craving something sweet, reach for fruit or use spices like cinnamon and nutmeg for a sweet-like flavoring.
3. Don't eliminate all fats. All fats aren't created equal. The body does need a certain level of good fats, such as monounsaturated fatty acids and polyunsaturated fatty acids. These good fats can be found in olive oil, olives, peanuts, pecans, almonds, avocados, sunflower oil, safflower oil and more.
4. Skip refined white bread. It's not necessary to eliminate carbohydrates and bread altogether from the diet, but it's a smart idea to do away with refined white bread since it's basically empty calories. Instead, choose 100% whole wheat bread and practice portion control.
5. Get enough essential nutrients. While it's important to make certain all vitamin and mineral daily requirements are met, pay special attention to three essential nutrients: Calcium (found in dairy foods and dark leafy greens), Choline (found in eggs), and Vitamin D (found in salmon, mushrooms, milk … and the sun).
6. Opt for flavor over calories. It's easy to go to the old standby of adding butter and cream to meals to add flavor, but try a healthier approach. Purchase fresh herbs from the grocery store or farmer's market (or start your own herb garden for an added bonus of exercise). Adding fresh herbs to the next meal will boost the flavor with virtually no additional calories.
7. Drink lots of water. Sodas and sports drinks are loaded with sugar, calories and artificial ingredients, all of which can affect your body and lead to weight gain. Instead, drink 8 ounces of water 8 times a day. Every system in the body needs water to function properly. It can also help you feel full and more satisfied. If water seems too boring, add lemon, lime or cucumber slices for a refreshing twist.
8. Kill the coffee calories. Caffeine in moderation actually has several benefits, but loading it up with fat (creamers) and sugars (artificial sweeteners) does more harm than good by adding hundreds of calorie and artificial ingredients. Use flavored coffee beans and go for almond or rice milk.
9. Pause during meals. When eating a meal, the body needs time to let the brain know that it's full – about 20 minutes, to be exact. So slow down when at the table. Put the fork down. Drink water. Converse. Read the news. Not only does that allow a person to eat less, it's also better for digestion.
10. Plan ahead when eating out. Check out restaurant menus online and decide in advance (before hunger sets in) on the healthiest option. Have the server split the meal in half, if necessary, and carry the remaining portion home in a to-go box.
Medicine in Motion (MIM) specializes in providing top quality sports medicine in Austin, Texas, for athletic individuals of all ages and levels. The staff at MIM believes active bodies are healthy bodies, therefore it is the office's goal to keep patients energetic and fit. To that end, MIM provides treatment of injuries and illnesses, including the use of physical rehabilitation; promotes healthy living with personal training and nutrition coaching; and offers comprehensive sports medicine evaluations to optimize health, activity level and sports performance. For more information or for questions regarding sports medicine in Austin, contact Medicine in Motion at 512-257-2500 or visit the website at http://www.medinmotion.com.