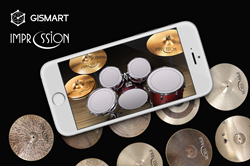 "This is a true sharing experience for both of our companies. This partnership will take the music created on our mobile applications to a different level."
New York, NY (PRWEB) January 12, 2016
Music mobile app company, Gismart, has announced recent partnership with cymbals manufacture, Impression Cymbals. The powerful partnership is part of the company's new strategy to improve music mobile applications. The two companies will use this unique partnership to take music mobile applications to a new level and create the best possible experience for users.
https://goo.gl/Isous3 (Google play) or https://goo.gl/HmTyp8 (App store)
Gismart's goal is to provide the highest quality music themed mobile applications available on the market. The accomplishment of this goal will be possible with the new strategy of partnering with the leading musical instrument producers and bringing real, authentic musical instruments to mobile customers. The latest partnership is with Impression Cymbals, the hand hammered, artisan crafted cymbals producer.
Impression Cymbals is known for their quality cymbals made with high quality materials. The team from Impression Cymbals handcrafts each cymbal and tests them with old world and new techniques to insure they are up to high standards. With the addition of the Impression Cymbals, customers will experience not only the authentic sound from these incredible cymbals, but enjoy the realistic look of the handmade instruments with the new graphics being added to the mobile application.
Both companies are excited about what this partnership will mean to the mobile app and music industries. "Gismart Limited and Impression Cymbals will not only bring a new, better app to the mobile app market, but together, we will change the way the music industry makes and experiences music." Mikhael Brovkine stated. Gismart representative went on to state "This is a true sharing experience for both of our companies. This partnership will take the music created on our mobile applications to a different level."
About Gismart Limited
Gismart is a leader in the mobile application industry. With over 80 Millions downloads Gismart is producing innovative and cutting edge music applications for Android, iOS and Amazon devices. With years of experience, the company uses the knowledge and skills to provide the music applications that customers need.
For more information on Gismart visit http://gismart.com/ .