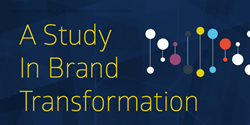 Creating experiences that people will love requires a new way of thinking about the customer, building a marketing plan and strategy, and operating as a team. - Patricia Travaline, CMO at Skyword
Boston, MA (PRWEB) January 12, 2016
Even with declining commercial, display ad, and traditional marketing effectiveness, a report by Skyword and Researchscape International found that only 38 percent of enterprise brands have restructured their marketing teams to overcome new marketing challenges. This is one of the marketing trends in the study that suggests digital transformation is still in its infancy for many organizations.
The report, "A Study in Brand Transformation," surveyed 190 enterprise marketing leaders at B2C and B2B enterprise organizations. Respondents spanned across 40 industries.
Skyword and Researchscape sought to gain an understanding of how enterprise organizations are transforming marketing strategy, team structure, and technology infrastructure to better reach and connect with consumers in the digital age.
"Consumers today do not have patience for traditional advertising and marketing techniques, yet they are consuming digital content at an unprecedented pace," said Patricia Travaline, CMO of Skyword. "They gravitate toward stories that make an emotional impact on their lives—whether that is through Netflix, CNN, or story-driven brands like New Balance and IBM.
Creating experiences that people will love requires a new way of thinking about the customer, building a marketing plan and strategy, and operating as a team. We know marketers are aware of this urgency, and wanted to get a better sense of the concrete changes they have implemented to adapt to the evolving marketing trends and changing consumer habits."
"The research results show that marketers are laying the foundation of digital transformation," said Travaline. "They are just beginning to shift their resources away from traditional interruptive marketing to sustained storytelling and publishing."
The research defined a transformative organization as one that had shifted traditional marketing investment in five key areas:
Technology: More than half of respondents (58 percent) invested in new technology in the past year, making technology a major driver of the transformation process. Social media monitoring and management platforms were the most common technologies adopted, followed by design software and analytics tools.
Teams and Skillsets: More than a quarter of enterprise marketers moved storyteller roles, such as editorial manager (33 percent) and content marketer (33 percent), in house. However, traditional marketing positions, such as advertising manager (59 percent), marketing operations (58 percent), and brand manager (41 percent), are still the most common.
Content Marketing: Forty percent of respondents grew the brand's content marketing investment in this past year, with video and blog posts being top priorities within their content marketing strategy. Long form, stand-alone content pieces such as e-Books and white-papers did not make the list of top 10 content investments.
Communicating Brand Story: Enterprise marketers do not depend on their departments alone to tell the brand story: 65 percent recruit the executive team for their storytelling abilities, and 54 percent depend on the company as a whole, throughout the marketing planning and execution process.
Taking the Brand Story Global: Forty-three percent of enterprise marketers have a global content marketing strategy in place, and 39 percent plan to lay the groundwork in the next two years. Only 23 percent confirmed to creating content in five or more languages.
"Building a story-driven marketing strategy takes more than hiring a content marketer or adopting a new platform. It requires transformation in the overall culture, structure, and processes of the marketing organization," said Tom Gerace, CEO and founder of Skyword.
"For brands to make an impact, marketers need to see their audiences in a new light, and play a broader role in their everyday lives by and developing a marketing plan that responds to the information and entertainment needs of those customers."
To learn more about the state of marketing transformation, download the resources listed below.
Resources:
View the core components of transformation in this interactive story: http://skyword.com/marketing-trends-research-2016/#/
Download the report, A Study in Brand Transformation: http://info.skyword.com/Skyword-Research-Marketing-Transformation.html
About Skyword
Skyword moves marketing leaders and those who create content for them forward. By embracing a sustainable, scalable approach to original storytelling, Skyword liberates brands from ineffective marketing practices and inspires them to create deeper connections with their audiences. The Skyword Platform makes it easy to produce, optimize, and promote content at any scale to create meaningful, lasting relationships. Skyword also provides access to a community of thousands of freelance writers and videographers, an editorial team, and program managers who help move clients' content marketing programs to new levels of creative excellence. Skyword is a privately held company headquartered in Boston, Mass., with offices in Miami, Fla., Palo Alto, Calif., and New York, N.Y. The company's technology center is located in Pittsburgh, Pa. Investors include Cox Media Group, Allen & Company, Progress Ventures, and American Public Media Group.
About Researchscape International:
Researchscape International is a market-research consultancy providing "Do It for You" surveys at Do It Yourself prices. For questions about this or other research, please contact us at +1-888-983-1675 x 1 or visit our website, http://www.researchscape.com/.