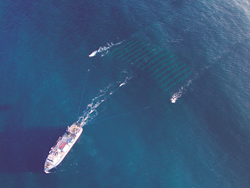 San Jose, CA (PRWEB) January 27, 2016
Geometrics Inc. announces the successful completion of a unique 3-D seismic Hybrid P-Cable survey off the New Jersey coast in cooperation with scientists from Rutgers University and the University of Texas at Austin and funded by the National Science Foundation. The survey was carried out using the R/V Marcus G. Langseth, operated by Columbia University's Lamont-Doherty Earth Observatory.
The survey covered a surface area of 11 kilometers by 50 kilometers and used two seismic survey systems in combination. The P-Cable system consisted of 24 streamers, each 50 meters long, separated by 12.5 meters, for a total array of ~287 x 50 meters. Group spacing was 6.25 meters.
In addition to the P-Cable, a traditional 3-kilometer-long hydrophone streamer provided velocity control and additional 2D data. The 24-streamer P-Cable arrangement was one of the largest ever deployed, and the deployment of the hybrid dual seismic system was a first on this scale.
The goal of the survey was to explore the impact of sea-level rise in the past and the relationship between climate history, global sea-level change, and coastline evolution. The area surveyed had been previously drilled for scientific purposes by the Integrated Ocean Drilling Program, with three strategically-placed boreholes to 750 meters below the seafloor.
Geometrics is a division of OYO Corporation and headquartered in San Jose, CA. The company is a world-leading designer and manufacturer of land, marine and airborne geophysical hardware, sensors and software, covering seismic, magnetic, and electromagnetic technologies. Founded in 1969, Geometrics now has representatives worldwide in over 50 countries. Its staff of engineers and technicians has worked with universities, research institutions, government agencies and exploration companies to provide solutions to all kinds of geophysical and geotechnical exploration needs. For more information visit Geometrics at http://www.geometrics.com or http://www.geometricspcable.com