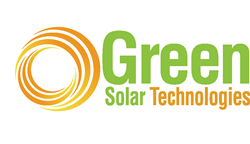 2015 was a successful year
Los Angeles, San Jose and Orange County, California (PRWEB) January 15, 2016
Green Solar Technologies, a solar installation company, celebrates 2015 and recorded 30 million dollars in sales. The company also launched two more locations in Riverside and Orange county and is preparing to open another two in San Jose and San Diego.
Green Solar Technologies specializes in providing high quality American-made solar systems that are made by leading solar panel manufacturers such as Solarworld, Enphase and Solaredge.
The company installs solar panels to customers in many states – not just California. Says Nicki Zvik, president of Green Solar Technologies: "For over 5 years we have been a leading solar installer of Residential and Commercial Solar systems nationwide. We use only the best American -made solar panels and products and are proud to help keep our fellow Americans working."
Other accomplishments have been their unique loan types that have helped many more clients gain access to solar technology. In 2015, GST collaborated with several leading banks to offer unsecured low-interest loans that stretched to 20 years. Unlike other solar panel companies, they do not shut the door on customers with bad or mediocre credit. Wrote one excited client, "I used to pay over $300 a month for electricity, but not anymore. I came across Green Solar Technologies and they reduced my bill by 90%!" The company was awarded the Foundation Finance Award for this innovation. Foundation Finance selected the organization as one of its elite partners for the fiscal quarter, citing the company's ability to finance more customers than its peers.
Nicki Zvik started Green Solar Technologies 6 years ago. His goals have been to help as many Americans as possible cut their monthly energy bills with clean renewable energy and this year saw unprecedented accomplishment. In June he had opened a location in Riverside, in August the company had opened another in Orange county and in the 4th fiscal quarter, Green Solar Technologies reported that sales had grown by 50 % to over 30 million dollars in the last year alone.
In 2016, Green Solar Technologies intends to open two more locations in San Jose and San Diego for which they are going to employ 50 more helpers.
Zvik encountered challenges on the way: "We have had a hard time approving customer for the 0$ down program but we partnered with more banks and are now approving way more customers."
Future goals are to expand to Arizona, Texas, and Georgia and to concentrate more on the commercial market. GST will bump into more obstacles: licensing, for one, is difficult to come by, each state owns its own bureaucracies. But Zvik is confident that GST will triumph. Says he, "The ITC expansion was great news knowing we can help more homeowners and business owner go solar and help the environment while saving money."
For Green Solar Technologies, 2015 was a year to celebrate. The company is looking forward to the next.
For more information about Green Solar Technologies and its services contact:
Nicki Zvik, President
Green Solar Technologies
844-765-8324 Ext: 114
nicki(at)greensoltech.com