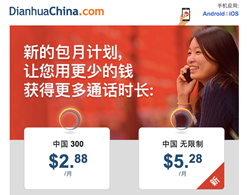 I have been using the phone card for a number of years, very reliable and reasonable. (Wei Li on Trustpilot.com)
Atlanta, Georgia (PRWEB) January 16, 2016
DianhuaChina.com, a website that has been serving Chinese expats worldwide for years, is now launching China Unlimited for only $4.88/month. The calling monthly plan is the best deal on the global market so far. It brings unlimited calling minutes to China landlines and mobiles without any limitation. It requires no contract, and can be deactivated or changed whenever necessary without any penalties. China Unlimited is a flexible subscription therefore, and can be activated in less than 1 minute: https://dianhuachina.com/product/monthly_plan
China Unlimited helps one save big money on his or her international calls to China for as little as $4.88/month. It also saves time, since customers don't have to go to any store to buy a calling card any more.
To benefit of the unlimited number of minutes to call China, customers need to open a free account on DianhuaChina.com. The process is simple, and if one also subscribes to the Newsletter, regular offers are sent by email. The plan has been conceived for all Chinese living far away from motherland, who need to call China at low rates.
Another big advantage is that every month a monthly plan customer gets Thank You points that can be used for international calls to other destinations.
For those who want to pay less than $4.88, DianhuaChona.com makes available another plan called China 300. This plan offers 300 international minutes to landlines and mobiles in China for only $2.88/month. If 300 minutes to China prove insufficient, on can always upgrade the plan to China Unlimited or buy as little as $2 Voice credit occasionally.
Voice Credit promotes a rate of 1.1¢/min to China landlines and mobiles, but has two great advantages for some:
-Voice Credit balance can be used to call not only China, but also other international destinations
-Voice Credit balance never expires, so it rolls over from month to month.
Whether one uses China Unlimited, China 300 or Voice Credit to make his or her calls to China, there are 3 ways to use the service on DianhuaChina.com:
-An Access Number helps anyone call without using the Internet; the access number is a local number in the area he or she lives and can be checked on the website: https://dianhuachina.com/access_numbers_voice
-KeepCalling app helps smartphone users make calls on the go and connect to their account on their mobiles; it is free to install from App Store and Play Store and imports automatically all phone Contacts.
-Web Call helps one make calls from PC to phone, using the Internet; no download is needed, since the desktop app is available in one's account at any time.
Besides the 3 calling services (China Unlimited, China 300 and Voice Credit), everyone has the possibility to send mobile credit to a mobile China via the Mobile Recharge service on DianhuaChina.com. The websites facilitates mobile credit transfers to China Mobile, China Unicom and China Telecom prepaid mobiles for the moment. But the list will expand per customer feedback.
There are several clear advantages why people use a monthly plan offered by DianhuaChina.com:
-It offers the lowest rates rates on the market
-Minutes are mixed and one can call landlines and mobiles, only mobiles or only landlines at his/her choice, without any specific boundary except the number of minutes.
-No contract is needed, and any plan can be cancelled at any time with no penalties and reactivated whenever convenient.
-Anyone can easily upgrade to China Unlimited or downgrade to China 300 according to his or her needs, on their own, directly from their account.
What customers appreciate about DianhuaChina.com overall is that:
-There are no hidden fees.
-Call quality is high.
-Transactions are 100% safe.
-Paypal accounts are accepted besides all major cards, no matter the currency or country of the sender.
-The service is among the easiest to use on the global market.
-Regular promotions are advertised by email.
-KeepCalling calling app for Android or iOS is simple and intuitive and it costs nothing to install.
-The Customer Service is highly supportive and responsive (reviews prove this) and it is available 24/7.
Customers describe it as a five star service. On Trustpilot review platform the service is labeled as "perfect," "clear" and good in terms of price, reliable and fast: https://www.trustpilot.com/review/dianhuachina.com
About DianhuaChina.com:
DianhuaChina.com is an interactive website designed by KeepCalling, a global telecommunications company registered in 2002 in USA. Presently, KeepCalling provides its services to hundreds of thousands of consumers and businesses worldwide, with a focus on customer satisfaction. KeepCalling has been listed by Inc 5000 as one of the fastest growing companies in the USA for 5 consecutive years. In 2015 the company registered a revenue increase of over 200% from 2011 to 2014.