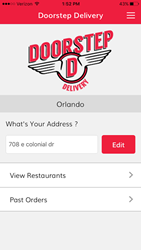 Orlando, FL (PRWEB) January 14, 2016
The largest restaurant delivery service in the Southeast and the largest multi-city independently owned restaurant delivery service in the country "Doorstep Delivery" will better serve even more customers and restaurants in the New Year with the launch of their fully updated new mobile app today. The new app produces a similar food ordering experience as the original, but with a cleaner look and bugs removed for an even smoother, more convenient, customer-friendly process. In addition, the app contains new features, such as better mapping and quicker re-ordering. Plus, Doorstep has even more new updates planned to make the app even easier and more fun for the customer, which will take effect throughout January and February. The app is available for download in the Apple App Store and Google Play Store.
"We saw the need to develop this new technology to ensure that our customers and restaurant partners had the best and most modern experience possible, says Director of Franchise Relations for Doorstep Delivery Chris Barnes. "We are happy to roll this out at the start of the New Year and look forward to all our loyal customers and restaurant partners having another platform for us to continue providing the best food delivery service available."
Originally founded in 1999 out of Gainesville (FL) as GatorFood.com, the company first served Florida cities Gainesville, Tallahassee, Tampa and Orlando. Co-Founders William Moore, Andrew Brown, Tom Colangelo and Daniel Sinor combined their over 40 years of experience in the restaurant delivery service industry to join forces in 2008 and expand the now called Doorstep Delivery into additional markets in the Sunshine State like Jacksonville and Ft. Lauderdale and then eventually throughout the Southeast, plus Denver and Dallas. Last year, each branch of Doorstep broke personal records while Doorstep's corporate headquarters and flagship location Orlando topped the list by breaking company-wide records in food sales.
In addition to the new mobile app, Doorstep Delivery has released a new order tracking system in Gainesville, Orlando and Jacksonville, which will be rolling out company-wide this month. Doorstep Delivery also plans on continued future expansion into even more markets nationwide. For more information on Doorstep Delivery, a list of all current locations and to make an order, visit http://www.DoorstepDelivery.com.
About Doorstep Delivery:
Originally started in 1999 out of Gainesville, FL as GatorFood.com, Doorstep Delivery is the largest restaurant delivery service in the Southeastern United States with operations in multiple states and over 150 cities. Doorstep Delivery facilitates deliveries for over 1,600 restaurants company-wide in nearly 20 major markets, provides an exceptional marketing service for all its restaurant clients, offers convenience and serves as a complete dining guide for its customers and is on the cutting edge of technology developing its own advanced software. In 2014 alone, the company saw nearly a 50% increase in restaurant sales, a strong indicator that Doorstep Delivery will be a household name in virtually every major city in the U.S.
###
MEDIA CONTACT: Ilene Lieber, 321-277-7812, ilene(at)passionprconsulting(dot)com