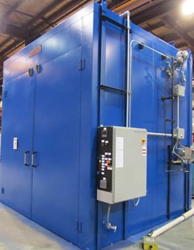 The oven showed up exactly how it was described. It was incredibly clean. I've been in the industry for almost 19 years and this is the best, well packaged, well taken care of oven I've seen. It is beautiful. The technicians were also great.
East Troy, WI (PRWEB) January 16, 2016
Wisconsin Oven Corporation announced the shipment of a gas fired heated walk-in batch oven for an industrial transformer supplier for baking out transformers. The customer opted to add on the turn-key installation package which includes everything from unloading the equipment to commissioning the equipment into operation. The walk-in industrial oven has a maximum temperature rating of 300°F and work chamber of 10'W x 10'L x 10'H. The recirculation system was designed with combination airflow to maximize heating rates and temperature uniformity of the products. The heating system utilizes an air heat burner rated at 750,000 BTU per hour.
The turn-key installation service for the industrial oven involved three consecutive days of installation with start-up and training at the facility by two Wisconsin Oven factory technicians.
The turn-key installation included:

Unloading the oven equipment upon arrival.
Moving the oven to a level foundation at the final job site (based on no dimensional restrictions).
Reassembly and rewiring all components removed from shipping.
Lagging oven to foundation.
Connecting customer's utilities to our equipment.
Debugging and start-up of the equipment.
Training three personnel on the operation and maintenance of the equipment.
This walk-in batch oven is fully factory tested and adjusted prior to shipment to help reduce installation and start-up times. A 150 point Quality Assurance check list was completed to ensure the equipment met all Wisconsin Oven quality standards. The industrial batch ovens are backed by Wisconsin Oven's Exclusive and Unprecedented 5-Year WOW™ warranty. This warranty covers all materials for all components (less wear items).
About Wisconsin Oven
Wisconsin Oven Corporation has been designing, engineering, and manufacturing industrial ovens and other heating equipment since 1973. Their custom and standard industrial ovens are used for a multitude of applications including heat treating, finishing, drying, and curing. Many of the industries they serve require specific temperature uniformity and equipment performance documentation. Their experienced design team is able to meet even the most stringent standards for their customers' equipment. Wisconsin Oven realizes that the success of the company depends on their Championship team of employees, which is why they have developed a company culture that recognizes and rewards employees. The goal at Wisconsin Oven is to outperform competition and provide customers with outstanding products and service. #8633AB