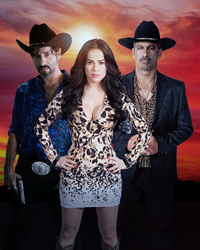 Miami, FL (PRWEB) January 15, 2016
Empress Media Asset Management has installed its eMAM™ software so Cisneros Media, the corporate division encompassing the Cisneros' media and entertainment businesses around the world, can efficiently search, browse, store, archive, and publish its content to its worldwide audience.
With 6,000 hours of original Spanish-language programming produced annually and 30,000 hours of archive, Cisneros Media needed a system to streamline workflow processes, automate manual processes and maximize the value of their media assets. Using the eMAM system, its staff can now efficiently find and move needed content between different systems and locations. Publishing to delivery platforms, including Hulu and Netflix, is simply a drag, drop, and choose process.
"We are excited about the growth of online television networks and digital platforms around the world. For example, we can now easily capitalize on the global expansion of OTT's to broaden our reach," commented Jonathan Blum, President of Cisneros Media. David Miller, COO of Empress Media Asset Management, said: "We are pleased to assist Cisneros Media's staff to find, process, and deliver media quickly and efficiently. With the eMAM system, we are able to replace a cumbersome process with a single keystroke."
ABOUT CISNEROS MEDIA: Cisneros Media is a corporate division that encompasses all of the Cisneros' companies and interests in the world of entertainment, including broadcast television, Pay-TV channels and services, production and content distribution, and beauty pageants. Among its holdings are Venevision, the leading broadcaster and content producer in Venezuela; Cisneros Studios, the largest independent producer of Spanish-language programming in the United States; the Miss Venezuela Organization, which holds a record seven Miss Universe crowns and six Miss World titles; and Cisneros Media Distribution (CMD), a global distributor of entertainment content with more than 35 years at the forefront of the industry, amassing more than 30,000 hours of programming, distributed in more than 100 countries and 20 languages. From its global headquarters in Miami, Florida, CMD also offers Pay TV channels and services, including its cable networks, Venevision Plus, VmasTV and VePlusTV, which reach millions of households throughout Latin America and the Caribbean.
ABOUT EMPRESS MEDIA ASSET MANAGEMENT: Empress Media Asset Management, LLC is a privately held company providing media asset management and workflow management solutions for broadcast, media, government, and corporate customers worldwide including its eMAM Online, eMAM Vault, eMAM Workgroup, and eMAM Enterprise product lines. It is part of the Empress family of companies, which includes Empress InfoTech, specializing in customized software development, Empress Digital, one of the largest US distributors of blank recording media and supplies, and Real Big Hits, which helps aspiring creatives get discovered, distributed, and funded. Empress has offices in New York, Los Angeles, and India, with system integrator resellers worldwide. For more information please visit http://www.empressmam.com.