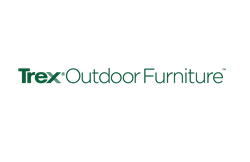 Syracuse, IN (PRWEB) January 20, 2016
Trex® Outdoor Furniture™ is pleased to unveil details and images of their anticipated Parsons Furniture Collection.
The Parsons Collection, which offers a variety of styles and options, showcases a number of breakthrough sciences for Trex Furniture including an all-weather sling material, motion in dining chairs, and the addition of planters to their product lineup.
Parsons features all-weather sling chairs— taking outdoor dining comfort to new heights, and the added ability for chairs to swivel invites customers to spend even more time in their outdoor spaces. Additionally, the introduction of planters to the Parsons Collection allows customers to create a matching all-weather oasis in their own backyard.
Items of key interest in the Parsons collection include a sophisticated seven-piece dining set and the new planters. The dining collection features geometric defined shapes that boast a simple, elegant feel rich with integrity.
The Parsons Collection is built to continue the feel and design of Trex Furniture's beloved standalone benches. Together, the planters, benches, and dining sets pair well to create the perfect outdoor experience.
As with all Trex Outdoor Furniture, the Parsons collection will stand up to a battery of intense weather conditions including snow, rain, sun, wind, and saltwater spray.
About Trex® Outdoor Furniture™
High performance meets low maintenance in Trex Outdoor Furniture. Based out of Syracuse, Indiana, Trex Outdoor Furniture prides itself on providing world class customer service, a 20 year warranty on products, and always free shipping options; a combination that has positioned Trex as a leader in the outdoor furniture industry. With a dedicated effort to provide eco-friendly, sustainable products, Trex is proud to use POLYWOOD® recycled lumber as well as post-consumer plastics like milk jugs and laundry detergent containers in the construction process. This process makes products that will not absorb moisture and that will stand up to wind, snow, rain, sun, and saltwater. Trex Furniture is proud to partner with Trees for the Future in planting a single tree for every item of furniture ordered. To learn more about Trex Outdoor Furniture, please visit https://www.trexfurniture.com/.