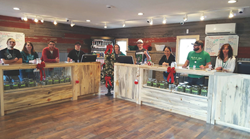 We started in the business really for the medicinal benefits of cannabis.-Dan Sullivan, Owner of The Green Joint
Parachute, Colorado (PRWEB) January 16, 2016
The Green Joint, an award-winning Colorado marijuana dispensary, is excited to announce the opening of The Green Joint Parachute, the first ever recreational marijuana dispensary in Parachute, Colorado, and The Green Joint's fourth location. With the ribbon cutting ceremony on December 17, 2015, this new marijuana shop promises to give the people of Parachute more ways to relax, and it's already boosting Western Colorado's economy.
When it opened, The Green Joint Parachute created quite a buzz, and local officials came out to celebrate. "This is exciting," said Stuart Mcarthur, Parachute's Town Manager. "This is the most traffic I've seen on First Street since I've been here. This is really exciting."
But for Dan Sullivan, the owner of The Green Joint, the marijuana business is about more than excitement. It's about cultivating health and community. "We started in the business really for the medicinal benefits of cannabis. What it does for cancer patients. Those with alzheimer's. Multiple sclerosis," said Dan Sullivan. His new recreational marijuana shop in Parachute will have lasting economic benefits for the community. It's already adding jobs, and promises to increase tax revenue.
"We have hired almost twenty folks in the last month," said Dan Sullivan. "Tax revenues that will allow law enforcement, fire department, and city services here in Parachute to continue on are going to be very exciting for them."
Dan Sullivan is right about Parachute's excitement. During the ribbon cutting, cars streamed by honking their horns to show their support. As Sullivan points out, 3.75% of the tax revenue will go directly to the town of Parachute. And town officials have high hopes for The Green Joint Parachute. They believe that this shop will open the gates for diverse economic growth.
"Our hope is that this gives us a bridge. And an economic continuation and a diversified economy," Stuart Mcarthur said.
Recreational marijuana has given people more options in how they choose to relax. "Some folks like to relax with cannabis, over a can of beer or a glass of wine," said Dan Sullivan. But the extensive excitement and support of The Green Joint Parachute reveals that recreational marijuana has many far-reaching benefits. In Western Colorado, the future is green.
About The Green Joint: The Green Joint is an award-winning marijuana dispensary with four locations across Western Colorado. With years of expertise and passion, The Green Joint's team of growers, bud tenders, and managers specialize in producing and selling multiple strains of the high-grade marijuana products. At The Green Joint, customers discover Colorado's best marijuana experience.