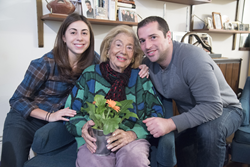 New York (PRWEB) January 19, 2016
On Sunday January 31, DOROT will deliver more than 550 packages to isolated older adults living in New York City and Westchester. DOROT is a social services agency dedicated to alleviating social isolation among older adults by providing services to help them live independently as valued members of the community.
Over 600 volunteers will work with DOROT to deliver food and seasonal items to older adults that will help them during the winter months. In addition to delivering a package, each volunteer will spend time with a senior, brightening their day with their visits. For the past 40 years, DOROT has provided compassionate care and companionship to isolated older adults. As part of this effort, DOROT delivers packages every winter filled with winter staples like: soup, tea, cookies, chocolate, fruit and knit gloves. Each package also comes with a hand-made warm winter greeting card.
Before delivering a package, volunteers watch a brief orientation video and meet with DOROT staff to go over delivery guidelines. Once they deliver the package, volunteers stay and chat with seniors, swapping stories and often creating lasting friendships and memories. DOROT's Winter Package Delivery brings vital services to elders at a time of year when weather and darkness often exacerbates their loneliness.
DOROT is always looking for new volunteers. If you are interested in participating in DOROT's Winter Package Delivery, please contact Carrie Jacobs at (917) 441-3713 or apply to volunteer at dorotusa.org.