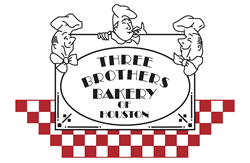 "Our King Cake has become one of our signature items, and we are thrilled with how it brings a real piece of Louisiana Mardi Gras tradition to Houston." - Robert Jucker
Houston, TX (PRWEB) January 19, 2016
This Mardi Gras season, fifth generation Houston favorite, Three Brothers Bakery, will be "letting the good times roll", offering its authentic Louisiana-style King Cake, as well as a new twist on the classic with a Cheesecake King Cake. Additionally, in the spirit of the Big Game, Three Brothers Bakery will also be offering a special edition of its famous Pumpecapple Piecake, topped with a golden 50.
Three Brothers Bakery has been developing its King Cake recipe for years, traveling to Louisiana to discover what makes the perfect traditional King Cake. Available in three sizes to feed groups from eight up to 24 people, the King Cakes from Three Brothers Bakery are made in the classic Louisiana style, filled with cream cheese or fruit flavors and topped with colorful sanding sugar on white icing. A hidden baby is also included in each of the sweet desserts, bringing good luck to whoever finds it.
Three Brothers Bakery is also bringing back last year's favorite hybrid dessert, the Cheesecake King Cake, a delicious combination of traditional, creamy cheesecake, sprinkled with sanding sugar, atop a sweet King Cake crust.
"Our King Cake has become one of our signature items, and we are thrilled with how it brings a real piece of Louisiana Mardi Gras tradition to Houston," says Bobby Jucker, bakery co-owner and fifth generation baker. "We hope to see our King Cake continue to grow in Houston, becoming the go-to dessert destination for the Mardi Gras season."
For this year's Big Game, Three Brothers Bakery can also create custom cupcakes, cookies and cakes in festive colors and themes, or put together a tray of cookies and sweets perfect for any party. In addition to these hand-decorated items, Three Brothers has its own game-winning dessert in the form of its famous triple-layered Pumpecapple Piecake.
At 11 inches tall and 23 pounds, the Pumpecapple Piecake is a dessert of super proportions, including an apple pie baked in a spice cake, an award-winning pecan pie baked inside a chocolate cake and a pumpkin pie baked inside a spice cake, covered in cream cheese icing and topped with pecan pieces and a caramel drizzle. To celebrate football's milestone year, Three Brothers Bakery is creating a special edition of the Pumpecapple Piecake featuring a golden 50. The golden 50 will also be echoed in the bakery's football themed cupcakes and cookies.
For more information regarding Three Brothers Bakery, its special Game Day Pumpecapple, Mardi Gras items or any of its other sweet products, please contact Allison Huseman by phone at 713-225-0880, or allison(at)integrateagency(dot)com.
About Three Brothers Bakery
The traditions of Three Brothers Bakery began in Chrzanow, Poland circa 1825, and were preserved despite the family's concentration camp imprisonment during the Holocaust. Their miraculous liberation, and subsequent move to Houston, brought Eastern European scratch baking traditions to 4036 S. Braeswood Blvd, 12393 Kingsride Lane, and 4606 Washington Ave where the owners are now proud to call themselves "memory makers who just happen to be bakers." Perfecting the process for almost 200 years, each day the fifth generation bakers produce mostly dairy-free breads and pastries, cookies, a full line of specialty dessert cakes and pies, as well as custom birthday, special occasion, wedding and groom's cakes using only the highest quality ingredients.
The Three Brothers Bakery pecan pie was named "the best mail order pecan pie America has to offer" by Country Living magazine, bakery owner, Bobby Jucker competed in the popular 'Food Network Challenge' and has been seen on Food Network's Outrageous Food. Three Brothers won "Best Mail-Order Pies 2012" from Bon Appetit, as well as Modern Baking's "2013 Retail Bakery of the Year" and was part of The Knot's "2010-2013 Best of Weddings" and "Hall of Fame" picks. Most recently, Three Brothers Bakery was named #11 in "America's 50 Best Bakeries" by The Daily Meal, and was awarded the 2013 Jeffrey Butland Family-Owned Business of the Year by the Houston division of the U.S. Small Business Administration. Three Brothers Bakery is a certified Woman-Owned Business through the Women's Business Enterprise National Council, and a State of Texas Historically Underutilized Business.
Follow Three Brothers Bakery on Facebook and Twitter for Houston area news, information and events.