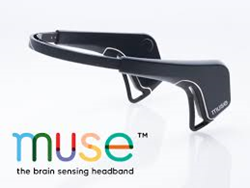 Muse is a perfect counterpart to all the education that eMindful provides and, in fact, can be part and parcel of a mindfulness based lifestyle
Vero Beach, FL (PRWEB) January 18, 2016
With millions of Americans dedicating themselves to living healthier lives in the new year, two leading meditation technology companies have partnered to help make those ambitions real.
eMindful, the leading provider of live, online mindfulness programs has joined with Muse™, a brain-sensing meditation headband that provides real-time audio feedback as part of a meditation practice. The two companies, along with other partners, are launching a nationwide program to grow awareness for mindfulness.
In tandem the companies and the Goldie Hawn Foundation are leading a "1% Challenge" to encourage people to dedicate 1 percent (14 minutes) of their day to improving their well-being through mindfulness meditation. As the total amount of practice time increases for participants in the challenge, eMindful will make a growing contribution to MindUP™, the evidence-based curriculum and training program for educators and children founded by actress Goldie Hawn, along with researchers, psychologists and educators.
The 1% Challenge provides live, expert-led mindfulness sessions online, to help people make small, manageable behavior changes. Developed by eMindful, the campaign recognizes that people are far more likely to succeed by introducing small changes over time than by attempting major change all at once.
"Massive, redirectional changes are hard to sustain," said Kelley McCabe, eMindful chief executive officer. "Our 1% Challenge starts with the premise that anyone can improve by taking small steps and building upon them. Over the course of one's life, that can be transformational."
For Muse, the challenge is part of its ongoing mission to encourage healthy living through an appreciation of meditation and all its health benefits. The Muse headband motivates people to improve their practice by helping them gain a deeper understanding of their minds during meditation. Muse has also launched the New Year New You initiative to begin 2016 by offering 10 percent off all purchases through January.
"For us at Muse we felt that a partnership with eMindful under the context of boosting awareness for meditation and healthy minds made a great deal of sense," said Derek Luke, Chief Executive Officer of Interaxon, the company that develops Muse.
"Muse is a perfect counterpart to all the education that eMindful provides and, in fact, can be part and parcel of a mindfulness based lifestyle."
Participants who sign up for the challenge any time before Jan. 31, 2016 receive 30 days of free, unlimited access to live, online mindfulness classes throughout every day, with new topics daily. Participants also have access to a 24/7 coaching board led by expert instructors discussing how to apply mindfulness in daily life, as well as brain fitness games, a meditation timer and other content.
In addition to benefiting the MindUP charity, participants can earn rewards including a Muse headband, VIP subscription to eMindful Life, a subscription to Mindful Magazine and other premium content. Additional partners in the challenge beyond Muse and the Hawn Foundation include Spafinder Wellness and Mindful magazine.
An introductory video is available here for more information. Those wanting to participate can register for the challenge at https://life.emindful.com/opc/.
About eMindful
eMindful provides evidence-based mindfulness programs to help people improve their overall wellbeing, and to better manage their stress, weight, awareness and chronic pain. It provides live, webinar-style courses, and supports a global community of mindfulness practitioners through eMindful Life.
The company's programs have been widely adopted by leading employers and health insurers such as Florida Power & Light, State of Arizona employees and Aetna Inc. Tens of thousands of people have been trained through eMindful's programs since its founding in 2007. To learn more about eMindful visit eMindful.com.
About Muse
Muse: the brain sensing headband developed by Interaxon provides real time brain feedback as part of an ongoing meditation practise. Interaxon is an innovator in the Brain Computer Interface (BCI) technology space. Muse headbands can be purchased at leading retailers around the world including Best Buy and Amazon as well as direct from choose muse.com. Muse app is available for free download for Apple and Android devices.
Muse is used by researchers and clinicians at over 100 hospitals and universities around the world.
Muse Contact:
Jacqueline Cooper
EVP Sales and Marketing
905-407-6234
press@choosemuse.com