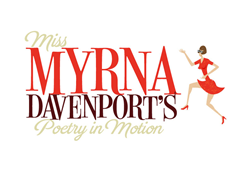 A solo performance actually takes a village to produce. It's a blessing to live in an area where vibrant theatre and the arts are thriving. There are amazing, talented people to collaborate with, and tremendous community support.
Winona, MN (PRWEB) January 19, 2016
What draws a community together? Local theatre artists Lee Gundersheimer of GRSF and Catherine Glynn of Lanesboro believe those who play together stay together. Gundersheimer and Glynn have been collaborating on a new show that Glynn is writing and performing in, and Gundersheimer, who has collaborated on many new works across the country, is directing.
"Miss Myrna Davenport's Poetry in Motion" is the story of a renegade substitute teacher who uses a variety of artistic means to wake her students up. Glynn and Gundersheimer will share their thoughts on developing "Miss Myrna", and hope to further kindle the collaborative spirit between the Southeastern communities of Lanesboro and Winona.
The show will be premiering in Lanesboro on January 30th at Lanesboro Arts St. Mane Theatre. Glynn was awarded an Established Artist Southeastern Minnesota Arts Council Grant at the end of August 2015. Glynn had the ambitious idea to get her work written and produced by the end of January 2016. With the help of many, the Capstone event and world premier is set for January 30 at 7:30 pm, with two follow up shows on February 5 at 7:30pm and February 7 at 1:30 pm.
Thomas White, Production Manager of the Commonweal Theatre is acting as stage manager and lighting designer for the show, and Lanesboro Arts is hosting the performances. (The actual activity is made possible by the voters of Minnesota thanks to a legislative appropriation from the arts & cultural heritage fund.)
Glynn says, "Saying this is a 'one woman show' is really a misnomer, a solo performance actually takes a village to produce. It's a blessing to live in an area where vibrant theatre and the arts are thriving. There is a tremendous wealth of talented people to collaborate with here in Southeastern Minnesota, and incredible community support as well."
In 2015 Glynn toured the solo show"The Belle of Amherst" to WSU's Performing Art Center. "Winona has been so gracious opening their arms to me, and my work. Kathleen Peterson and Greg Neidhart were particularly instrumental in making that performance happen."
A Coffee Talk hosted by Blooming Grounds will be held on on February 2 at 6pm. Glynn and Gundersheimer encourage those who attend to come rady to talk about their favorite poems and favorite teachers.
Blooming Grounds is located on the corner of East 3rd Street and Center Street in downtown Winona, Minnesota.
A second coffee talk will take place on February 6th at 11:00am at Community Grounds Grocery Store in Lanesboro. Community Grounds is located at 201 Parkway Avenue N.
Attendance at both events is free and open to the public, all ages are encouraged.