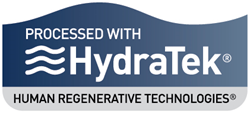 "We strive to raise the industry standard with our HydraTek Process, and demonstrate post-processing our tissues are best in class. We are committed to being a leader in the field of regenerative medicine" said Chris Sharp, CEO HRT
El Segundo, CA (PRWEB) January 19, 2016
Human Regenerative Technologies, LLC (HRT®) has completed significant independent analysis of its leading amniotic and placental tissue product line, demonstrating that its HydraTek® products provide unparalleled biomechanical integrity and biological viability.
As part of HRT's focus of providing the industry's highest quality of amniotic and placental products, their formulations, configurations and delivery methods for various surgical specialties, HRT continues to analyze its products post-processing to verify the integrity, biologic composition, and beneficial properties preserved through its proprietary HydraTek® Process.
Histological analysis was used to measure the biomechanical integrity and structural preservation of our amniotic membrane products. Both HydraTek® thin and thick membranes were shown to better retain their natural thickness versus leading competitive products.[1] The improved thickness demonstrates the ability of our HydraTek® Process to preserve the natural tissues, and may lead to improved handling and strength of these membrane graft.
A scientific report has been completed analyzing the collagen content preserved in both the HydraTek® amniotic membrane and flowable placental tissue matrix products. The tissues were analyzed post-processing, and shown to contain a majority of the collagen found in unprocessed amniotic tissues.[2] Collagen is a one of the most prolific components of the human Extracellular Matrix (ECM), and along with other fibrous proteins, creates a stable framework that guides tissue integration and development
Further scientific analysis was performed to determine the amount of growth factors retained by the HydraTek® Process in both its amniotic membrane and placental tissue matrix products. The resulting study reports a significant concentration of numerous key growth factors which are known to assist in the body's regenerative process.[3] When compared to leading competitors' published growth factor content, HydraTek® Process is shown to maintain a higher concentration in a majority of growth factors.[4] Growth factors play a role in enhancing fibroblast proliferation and migration; increasing ECM production and reconstruction; bone, cartilage and tissue remodeling; stimulating angiogenesis; tissue remodeling; wound regeneration; increasing collagen deposition; anti-inflammatory control; immune response control; inhibition of MMP expression.[3]
HRT is one of the first processors to study and report on the immune-privileged characteristics of its products. Rather than simply relying on available scientific reports on the non-immunogenic (or immune privileged) characteristics found naturally in the human placenta, which produces little or no immune response. HRT has taken the initiative to proactively test the immune-privileged properties of its products, by introducing them to activated T cells and analyzing their ability to reduce the level of INF-gamma secretion after 24, 48 and 72 hours. The study found that HydraTek® products are not just non-immunogenic, meaning they produce little or no immune response, but HydraTek® products are immunosuppressive, with the ability to suppress the immune response.[5]
"We strive to raise the industry standard with our HydraTek Process, and demonstrate post-processing that our tissues are best in class. We are committed to being a leader in the field of regenerative medicine and holding the highest product quality and standards for patients, the medical community and our private label partners," commented Chris Sharp, CEO.
1-5 Data on file at http://www.humantissue.com
Human Regenerative Technologies, LLC (HRT®) is a regenerative biologics company, focused on advancing the understanding and development of human cellular and protein-based therapies through scientific and clinical application.
Human Regenerative Technologies (HRT) provides the highest quality of processing, and has developed the industry's most diverse line of active amniotic and placental based biologics utilizing our proprietary HydraTek® process to be applies in Wound Care, Foot & Ankle, Urology, Podiatry, OB/GYN, ENT, Dental, Oral and Maxillofacial, Orthopedics, Spine, Plastics and Cosmetics.
HRT's commercially available regenerative biologics successfully combine precise science and technology in the procurement, processing and delivery of innovative and novel active Extracellular Matrix (ECM) biologic products derived from human amniotic and placental tissues.
HRT continues to expand its national and international distribution network and private label opportunities with synergistic medical companies.
For more information, visit our website at http://www.humantissue.com or email: info(at)humantissue(dot)com
Forward-looking statement
Any forward-looking statement is based on information available to Human Regenerative Technologies LLC as of the date of the statement. All written or oral forward-looking statements attributable to Human Regenerative Technologies LLC are qualified by this caution. HRT does not undertake any obligation to update or revise any forward-looking statement to reflect any change in circumstances or in HRT's expectations.