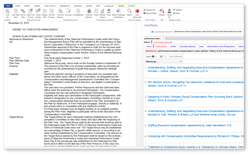 We're giving transactional attorneys, who cannot sacrifice accuracy or efficiency, another ace up their sleeves. Lexis for Microsoft Office users now have the ability to tap the comprehensive expert resources from Lexis Practice Advisor with one click.
New York, NY (PRWEB) January 20, 2016
LexisNexis® Legal & Professional today announced a series of new capabilities for its market-leading, award-winning legal drafting and review tool, Lexis® for Microsoft Office®, including the integration with its practical guidance solution, Lexis Practice Advisor®. Attorneys handling transactional matters can now leverage a unique and powerful combination of drafting resources, forms and practice advice, as well as M&A and credit trend analytics directly from within the Microsoft® desktop applications they use every day. This empowers them to quickly and more confidently draft effective contracts and related documents.
While drafting or reviewing, attorneys can simply highlight a text passage and click the "Practice Advice" button at the top of their document to receive further context, on point guidance content and insights. Surfaced in a pane within the user's active window to allow for an easy side-by-side comparison, legal professionals can review related cases, codes and analysis; articles by expert attorneys; checklists; document templates and other resources for quick reference and use in drafting. Similarly, the "Expert Forms" button in Lexis for Microsoft Office delivers forms pertinent to a given transaction, along with practice notes, alternate clauses and expert guidance.
"We're giving transactional attorneys, who cannot sacrifice accuracy or efficiency, another ace up their sleeves," said Jeff Pfeifer, vice president of Product Platforms for the North American Research Solutions business at LexisNexis. "Lexis for Microsoft Office users now have the ability to tap the comprehensive expert resources from Lexis Practice Advisor with one click—getting background and unique perspective on the topics, transactions and viewpoints that are most critical to their specific practice area, jurisdiction or topic, ranging from business and commercial transactions to banking, finance and bankruptcy—without ever leaving Microsoft Word or Outlook."
The integration with Lexis Practice Advisor also provides one-click access to Lexis® Market Tracker, a powerful tool that allows users to see what's market, giving them key terms, language, provisions and structures used in more than a thousand current transactions. This enables lawyers to compare one deal to another and extract trends and insights with customizable reports, as well as draft more concise documents informed by market-tested precedents and specific clauses and language.
Additional new workflow and productivity updates for Lexis for Microsoft Office include direct access to more regulatory and agency citations, updates to Table of Authorities enabling the movement of entries within a category and the ability to save Word files from Lexis for Microsoft office into work folders on the Lexis Advance® legal research solution.
Since its launch in 2010, Lexis for Microsoft Office has frequently garnered recognition among lawyers and legal administrators. Most notably, in 2014 and 2015 it was voted as both "Best Tables of Authority Software" by readers of the National Law Journal and "Best Table of Authority Software Provider" in the New York Law Journal reader survey. In addition, it was ranked as one of the "Top 25 Products of 2015" by TechnoLawyer NewsWire readers.
The incorporation of Lexis Practice Advisor completes a series of LexisNexis product integrations with Lexis for Microsoft Office, furnishing legal professionals with comprehensive tools and content access that support the various research and transactional tasks they complete every day. Lexis® Search Advantage became available through the application in 2015, enabling users to search for, browse and access information from their own internal databases directly from within Word or Outlook. The application also added market-leading EagleEye proofreading tools and capabilities from Microsystems. Content from the LexisNexis research information service Lexis Advance has been available since 2013.
LexisNexis is a leading information provider and a pioneer in delivering trusted legal content and insights through innovative research and productivity solutions, supporting the needs of legal professionals at every step of their workflow. By harnessing the power of Big Data, LexisNexis provides legal professionals with essential information and insights derived from an unmatched collection of legal and news content—fueling productivity, confidence and better outcomes.
More information on the Lexis for Microsoft Office integration with Lexis Practice Advisor can be found in an integration overview video. For even more details on the capabilities and features of Lexis for Microsoft Office view the product brochure and video.
Screen shots of the product update can be downloaded here:

About LexisNexis® Legal & Professional
LexisNexis Legal & Professional is a leading global provider of content and technology solutions that enable professionals in legal, corporate, tax, government, academic and non-profit organizations to make informed decisions and achieve better business outcomes. As a digital pioneer, the company was the first to bring legal and business information online with its Lexis® and Nexis® services. Today, LexisNexis Legal & Professional harnesses leading-edge technology and world-class content to help professionals work in faster, easier and more effective ways. Through close collaboration with its customers, the company ensures organizations can leverage its solutions to reduce risk, improve productivity, increase profitability and grow their business. LexisNexis Legal & Professional, which serves customers in more than 175 countries with 10,000 employees worldwide, is part of RELX Group plc, a world-leading provider of information solutions for professional customers across industries.