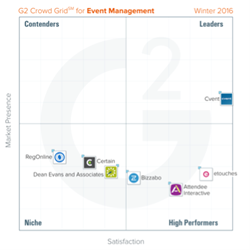 CHICAGO, IL (PRWEB) January 19, 2016
G2 Crowd, the world's leading business software review platform, today released the Winter 2016 Event Management Platforms Software GridSM report to help businesses make the best technology decision. Cvent was named the sole Leader in the report, receiving a strong customer satisfaction score with a large market presence. Bizzabo, Attendee Interactive and etouches were named High Performers, earning a strong customer satisfaction scores with a smaller market presence. Cvent earned both the highest overall satisfaction score and the highest overall market presence score.
The GridSM leverages customer satisfaction data reported by authenticated users along with vendor market presence determined from social and public data. Based on a combination of these scores, each software solution is categorized as Leader, High Performer, Contender, or Niche.
Key Findings:
The Winter 2016 Event Management Platforms GridSM Report features more than 165 event management platforms reviews and revealed these high-level insights about the event management platforms software market as a whole:

Branding and customizations – Users of event management platforms frequently mentioned the need to customize and brand event registration forms, websites, mobile apps, and marketing collateral in order to present a professional and cohesive event to registrants.
Ease of event creation – Reviewers expressed their desire for an event management platform that simplifies the process of creating events, and overall these products delivered. Six of the seven products in this report received satisfaction ratings of 84 percent or higher for event creation.
Comprehensiveness – Event management platforms comprise a number of features for event management, including attendee registration, event websites, mobile event apps, paper submission management, and more. Reviewers recommended closely analyzing the needs of an event prior to selecting a product to ensure that planners are not overpaying for unneeded features or requiring additional features that a product does not offer.
About the Event Management Platforms Software GridSM report:
● The report is based on more than 150 reviews written by business professionals.
● Of the roughly 70 products listed in G2 Crowd's event management platforms software category, the ranked products each received ten or more reviews to qualify for inclusion on the GridSM.
About G2 Crowd, Inc.
G2 Crowd, the world's leading business software review platform, leverages more than 50,000 user reviews to drive better purchasing decisions. Technology buyers, investors, and analysts use the site to compare and select the best software based on peer reviews and synthesized social data. Co-founded by the founder and former executives from SaaS leader BigMachines and backed by roughly $12 million in capital, G2 Crowd aims to bring authenticity and transparency to business technology research. For more information, go to G2Crowd.com
Follow us on Twitter or connect with us on Facebook or LinkedIn.
For more information, please contact:
Adam Beeson, communications director for G2 Crowd, 847-867-0048, abeeson(at)g2crowd(dot)com