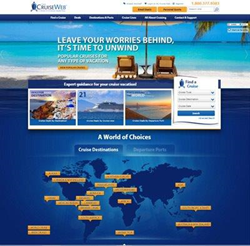 "While cruising, we enjoy that beauty by exploring new places, nature, and cultures, spending special time with family or friends, enjoying relaxation and pampering, or just taking advantage of all the fun."
Calverton, MD (PRWEB) January 27, 2016
The completely re-designed site captures the Beauty of cruising, with rich photos and fresh content for any port, destination, or line that any traveler may be considering. "People cruise to enjoy the beauty of the world", says company President and founder, Frans Hansen.
"While cruising, we enjoy that beauty by exploring new places, nature, and cultures, spending special time with family or friends, enjoying relaxation and pampering, or just taking advantage of all the fun." The new website's responsive design displays beautifully on desktop, tablet, or mobile devices.
The Power of the new CruiseWeb.com is that it offers tens of thousands of sailing options with detailed itineraries, port descriptions, points of interest, activities, ship amenities, deck plans, and videos, along with image galleries at every turn. Stateroom options show each sailing's published prices, and the site is loaded with deals by cruise line and by destination!
All these choices would be daunting if it were not for the Ease of navigating the new site, and the user-friendly search tool to help one find the type of cruise, destination, or travel dates that would be of interest. Cruisers may search on their own as little or as much as they like, or use the unique advanced cruise search to find sailings by embarkation port, ports of call, country, vacation duration, or cruise ship name. If cruise shoppers need help at any point, expert cruise consultants are standing by seven days a week. Or, vacationers can find a cruise on their own, then get a consultant on the line to finalize their reservation and check for any non-published discounts or value added perks.
The company tagline "A World of Choices Made Easy" sums it all up.
About the Cruise Web
The Cruise Web is a travel agency specializing in cruises that has been serving clients worldwide for more than 20 years. The company's expert cruise consultants focus on providing travelers with the best value for their time and money in finding and booking a cruise vacation. Cruise shoppers can contact The Cruise Web today at 1-800-377-9383 (USA: 1-240-487-0155) or at CruiseWeb.com for the best cruise deals.
Media Contact:
Karolina Shenton, Marketing Manager
KarolinaS(at)cruiseweb(dot)com
240-487-0155 ext. 251