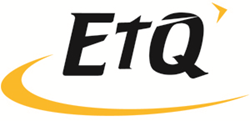 It's an honor to have been named a winner by Golden Bridge Awards for this esteemed industry and peer recognition
Farmingdale, New York (PRWEB) January 20, 2016
EtQ has earned the prestigious Gold status in the Golden Bridge Awards for Fastest Growing Company of the Year— Percentage Wise in Growth. The coveted annual Golden Bridge Awards program encompasses the world's best in organizational performance, innovations, products and services, executives and management teams, women in business and the professions, innovations, case studies, product management, public relations and marketing campaigns, and customer satisfaction programs from every major industry in the world. Organizations from all over the world are eligible to submit nominations including public and private, for-profit and non-profit, largest to smallest and new start-ups.
For more than 20 years, EtQ has been helping Quality, Compliance and Environmental Health and Safety spaces to achieve operational excellence through automation, integration and collaboration. EtQ is committed to providing products and services that reflect our customer's needs and in enhancing the quality and safety of an organization's products and processes.
More than 40 judges from a broad spectrum of industry voices from around the world participated and their average scores determined the 2015 Golden Bridge Business Awards winners. The winners were honored during the awards dinner and presentation on November 16, 2015 in San Francisco attended by the finalists, industry leaders, and judges.
"It's an honor to have been named a winner by Golden Bridge Awards for this esteemed industry and peer recognition," said EtQ's Chief Executive Officer, Glenn McCarty. "This award is a further testament to EtQ's commitment to satisfy customer needs and provide software that will improve quality, increase safety and ensure compliance, regardless of industry type. We are pleased to accept this award for Fastest Growing Company of the year and applaud all other Golden Bridge Award winners."
About the Golden Bridge Awards
Golden Bridge Awards are an annual industry and peers recognition program honoring best companies in every major industry from large to small and new start-ups in North America, Europe, Middle-East, Africa, Asia-Pacific, and Latin-America, Best New Products and Services, Best Innovations, Management and Teams, Women in Business and the Professions, Case Studies, Customer Satisfaction, and PR and Marketing Campaigns from all over the world. Learn more about The Golden Bridge Awards at http://www.goldenbridgeawards.com