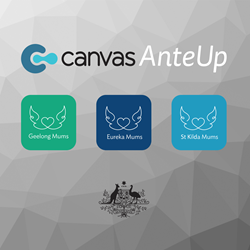 Reston, VA (PRWEB) January 27, 2016
Canvas, the global leader in mobile apps for businesses, today announced that Mums Group, a volunteer-run nonprofit network that collects and refurbishes donated baby equipment and goods to provide them to families in need, is the 2015 Canvas 'Ante Up' Nonprofit of the Year Award recipient. Mums Group, which is comprised of St Kilda Mums, Geelong Mums and Eureka Mums, will be honored on January 28th, 2016 at an awards ceremony at the Australian Embassy in Washington, DC.
Launched in 2012, the Ante Up program encourages Canvas employees to identify a nonprofit they are passionate about, and then to support that nonprofit with free Canvas services as well as the employee's time to help train the organization on how best to implement Canvas and benefit from mobile technology. The program's impact has been immediate and far reaching: past recipients include an African Reserve combating animal poaching, a Washington, DC-based Film Festival, and an Australian nonprofit.
In addition to honoring Mums Group at the Australian Embassy event, Canvas CEO James Quigley will formally announce that Baby Buggy, the U.S. counterpart to St Kilda Mums founded by Jessica Seinfeld to provide essential clothing, gear and services to families in need nationwide, will also receive Canvas software for free.
Australia-based Mums Group was founded to serve an urgent yet unmet need: matching donated baby equipment and goods that they refurbish into excellent condition with families who are greatly in need, including those who are homeless and victims of domestic violence. But as a lean organization, Mums Group was buried in a mountain of paper forms and manual entry processes required to conduct product safety checks and track inventory.
'We are a small charity, and most of our volunteers are busy mums. We love the ease with which our volunteers have access to the same information such as reference data for products, safety recalls, supplier contact information in real-time via the Cloud," said Jessica Macpherson, Chief Executive at St Kilda Mums. "We may be small but Canvas allows us to punch well above our weight!"
Leveraging Canvas' cloud-based mobile app platform, Mums Group has been able to transform and grow its organization to hundreds of volunteers, while taking an innovative approach to meeting several of its unique business challenges. Mums Group now has 161 users and 19 Canvas apps, delivering several key benefits to the organization:
➢ Improved product safety checks and regulatory compliance – Baby/infant product safety recalls are issued every day, so paper forms and manual processes introduce risks and inefficiencies. By turning to Canvas' platform, Mums Group was able to create and easily edit mobile forms that include photos and timestamps of all goods donated and distributed to ensure compliance and safety.
➢ Ability to grow volunteer-led organization – Canvas' intuitive interface allows non-IT specialists to easily create and edit mobile forms in a matter of hours. This was critical for Mums Group, as it needed geographically dispersed volunteers to quickly get up and running on iPhones, iPads, Androids, etc. with minimal training. Now volunteers can in effect be handed a mobile device and start conducting product safety checks.
➢ Ability to cut paper nightmare and manual entry – Mums Group has used Canvas to realize significant time and cost savings by eliminating paper forms and manual processes in favor of mobile apps.
"Mums Group possesses all of the attributes Canvas looks for in an Ante Up awards recipient; a leadership team passionate about making a difference in their community and the world, and an organization with dedicated volunteers willing to embrace technology and make it the lifeblood of their organization," said James Quigley, CEO at Canvas. "With Canvas subscribers now spanning 73 countries and using 100 different languages, the Ante Up program and Mums Group's success reaffirms that the opportunity to make a difference globally is boundless."
Canvas is a cloud-based software service and mobile app platform that empowers businesses of all sizes to collect information using mobile devices; instantly share that information with colleagues, partners and customers; and seamlessly integrate the data with their businesses' existing backend systems so that decision makers gain access to accurate, real-time information from their workforce.
About Canvas
Canvas is changing how companies collect and use business information through their cloud-based software service and mobile app platform. With customizable apps for smartphones and tablets, Canvas enables businesses to replace expensive and inefficient paper forms and processes, requiring no programming or IT. Canvas enables businesses to collect information using mobile devices, share that information and easily integrate with existing backend systems. Canvas also offers the first mobile business application store of its kind, allowing businesses from diverse industries to find mobile forms specific to their needs. To learn more, visit http://www.goCanvas.com.