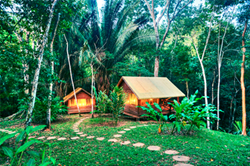 When people switch off, a whole new world opens up for them
San Ignacio, Belize (PRWEB) January 22, 2016
The Lodge at Chaa Creek's Macal River Camp's recent feature on the travel site Oyster highlights a growing desire on the part of today's travellers to disconnect from the cyber world in order to reconnect with nature and each other, according to the Belizean eco resort.
Oyster.com is a large, popular travel site employing professional hotel investigators with the stated mission to "to give a comprehensive preview of the hotels you might choose to stay at, from the beds you'll sleep in to the bathrooms you'll use to the food you'll eat".
"Oyster is trusted by a large segment of the travelling public, so we're always interested when they mention us," Chaa Creek's acting GM Bryony Bradley said, "And when we read this latest feature, we saw that it highlighted some of the reasons why many of our guests choose the Macal River Camp for their Belize vacation," she added.
The January 7, 2016 Oyster article, "7 Charming Retreats Where There's Absolutely No Internet" included Chaa Creek's Macal River Camp in Belize, along with resorts in California, Costa Rica, Sedona Arizona, Mexico, and Italy's Cinque Terre, and began with a tongue-in-cheek quote by American TV personality Stephen Colbert;
"This year I resolve I'm going to spend less time looking at my iPhone because that is time I could be spending with my iPad," Mr Colbert was quoted as saying.
Referring to the quote as a joke that many people could relate to, the feature goes on to say, "For those of us that want to unplug but just can't find the willpower, a vacation without Wi-Fi might be just the ticket… We recommend these seven charming retreats to help get you on track."
According to Oyster contributor Kelsey Blodget, the "Macal River Camp might be one of the best deals in Central America. The 10 Camp Casitas… have no electricity and after dark are lit by the soft glow of flickering gas lamps. They give guests the sense of truly being alone in the jungle, and one of the best parts of the experience might be listening to the chorus of howler monkeys and cicadas at night."
Ms Bradley said she found the description apt, and that feedback from guests indicates that another benefit of the Macal River Camp's Belizean jungle ambiance is that they spend more time speaking with and relating to each other.
"When people switch off, a whole new world opens up for them. I personally love seeing families and couples sitting around the campfire together, or playing cards on their casita deck, swimming, laughing and just being together. Even people on their own seem to quickly make friends, which shows what social animals we are when the electronic devices are turned off," she said.
Ms Bradley added that another advantage of the Macal River Camp that the Oyster article highlights is that guests can walk along a scenic trail to The Lodge at Chaa Creek and have access to amenities such as a farm-to-table restaurant, infinity pool,internationally recognised Hilltop Spa, stables, canoes, the onsite Belize Natural History museum, butterfly farm and, if desired, Wi-Fi connectivity.
"We like to think that we offer the best of both worlds. Our guests can enjoy real rainforest ambience as well as everything that our fully serviced, eco-luxe Lodge at Chaa Creek offers," Ms Bradley said.
Confirming the Oyster's acknowledgement that a "hearty, homemade breakfast and dinner is included," Ms Bradley added that the camp's popular, long-time manager, Theodoso, or Docio, Juarez and his family are always on hand to answer questions and to provide advice and local Belizean colour and stories, as well as 24 hour security.
"As with The Lodge at Chaa Creek proper, our guests enjoy a high degree of quality service and security that is constant yet unobtrusive. We've always prided ourselves in looking after our guests 24/7 without being in their faces," Ms Bradley said.
The Macal River Camp is part of the Lodge at Chaa Creek, a multi award winning eco resort set within a 365-acre private nature reserve along the banks of the Macal River in Belize.
ENDS