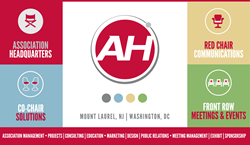 "Adding Denise to our team will strengthen our presence in Washington DC while growing and enhancing our reputation among those seeking our services." Bob Waller, CAE, President and CEO of AH
WASHINGTON, D.C. (PRWEB) January 21, 2016
AH, a professional services firm specializing in full association management, is pleased to announce and welcome Denise Jackson as Managing Director of its Washington, DC office and Vice-President of Business Development. In her new role, Denise will oversee the AH Washington DC office while helping to grow the overall business for AH.
"Adding Denise to our team will strengthen our presence in Washington DC while growing and enhancing our reputation among those seeking our services" said Bob Waller, CAE, President and CEO of AH. "Denise brings experience and a deep understanding of Washington to AH. We are confident that she will provide valuable counsel and leadership to prospective and existing clients and to AH. In 2016, a strong Washington presence is essential for associations and not-for-profit organizations. Bringing Denise on board demonstrates our commitment to the Washington market. We are very excited she has agreed to lead our efforts there."
Jackson is well known in the association leadership, not-for-profit and hospitality fields in Washington. She brings 25 years of experience working directly with association leaders, professional societies, trade associations and the DC nonprofit community. Her expertise includes association leadership, strategic planning, membership marketing, meeting and event management, along with, new business development and the creation of strategic client relationships. She has managed over 2,000 association and corporate accounts in the Washington and New York regions.
"I am very happy to join AH and its dynamic team of leaders," said Jackson. "AH is doing some very interesting and exciting work aligned with the future of associations and non-profits in Washington, and I'm excited to join the AH team."
AH provides Washington clients professional services ranging from meetings, IT, marketing and communications accounting to full service association management.
AH, celebrating its 38 year in business, rebranded itself from Association Headquarters, Inc. last year in order to expand its offerings to both associations and non-profit organizations.
For more information on AH, its services or locations, visit http://www.AHredchair.com.
About AH
AH is a professional services firm that specializes in helping non-profit organizations achieve their mission, create value and advance their causes, industries and professions. The Mt. Laurel – based company is composed of four main divisions within AH; a full-service association management company (AMC); a marketing and communications agency; a meetings & events management team; and a division that focuses on other custom solutions such as strategic planning, website builds and database integrations, accounting, recruitment, public affairs and lobbying, certification management, and growing non-dues revenue. AH maintains AMC Institute Charter Accreditation status. The AMC Institute Accreditation program is based on an ANSI Standard. As named by the Customer Service Institute of America (CSIA), AH is a Gold Certified Customer Service Organization. For more information, visit http://www.AHredchair.com, connect with AH on Facebook on youtube.com and follow @AHredchair on Twitter.
# # #