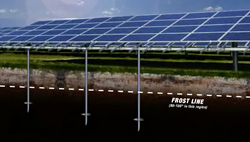 "Cantsink is proud to offer Minnesota's solar industry a product that will assure them of long-term, high-quality performance from their projects," Cantsink President Pat Hutchinson said.
Atlanta, GA (PRWEB) January 20, 2016
Cantsink Manufacturing will be showcasing its unique helical foundations for solar racking at the Midwest Solar Expo at the Ramada MSP near the Minneapolis-St. Paul airport, May 17-19.
Cantsink's helical foundations will be displayed at the Expo for the first time in Minnesota, which is in the midst of a popular program to create community solar farms throughout the state. These foundations are designed to help solar projects avoid shifting that disrupts solar panel alignment. Using these helical piles creates low-maintenance systems that are easy to install and environmentally sound through the life of the project.
Long, cold winters are especially challenging for ground-mounted solar, such as the dozens of community solar projects now under way throughout Minnesota. The expansion of freezing moisture in the soil can push driven foundations upward, like water freezing in an ice tray. But solar panel racking dislodged in this process doesn't return to its original position when the ground thaws.
Repeated freezing and thawing over the 25-year lifespan of a solar project disrupts solar performance and requires expensive repairs.
Easy-to-install helical piles by Cantsink, a nationwide supplier to the U.S. solar industry, are engineered to anchor securely below the frost line, which can be as deep as 100 inches in some parts of Minnesota. Cantsink foundations create perpetual stability and avert the need for repairs and adjustments caused by Northern winter weather. Helical pile installation can be accomplished with readily available project site equipment and is engineered for accurate placement that ensures the right depth and alignment every time.
Best of all, Cantsink's helical piles can be recycled at the end of the project's life, adding to the long-term environmental sustainability of the investment.
Pat Hutchinson, president of Cantsink Manufacturing, said he is gratified that Cantsink's helical foundations provide an easy, cost-effective solution to a special problem solar projects face in Minnesota. He noted that the ideal suitability of Cantsink helical piles for overcoming the special challenge solar faces in this region is prompting a surge of interest from solar developers and installers.
"Cantsink is proud to offer Minnesota's solar industry a product that will assure them of long-term, high-quality performance from their projects," Hutchinson said. "We hope this can help prolong the popularity and momentum community solar is experiencing in Minnesota."
About Cantsink Manufacturing, Inc.
Cantsink (http://www.Cantsink.com) is proud to be a piling manufacturing company trusted throughout the nation to supply innovative, strong and cost-effective helical piles. We have been in the helical pile industry since 1988, and have experience creating piles for a wide variety of structures, including the foundations for ground-mounted solar projects. We provide competitive pricing and fast turn around for material, along with exceptional customer service. We are proud to announce that our plant and company headquarters run on solar power and are net-zero energy facilities. With over 45 years of combined experience, our professional engineers can strategize and design a custom solution for your project. We're engineered for excellence.