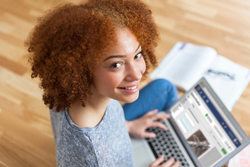 WeSpeke is the only platform that delivers a user experience that combines great content with a global community and powerful communication tools.
Pittsburgh, Pennsylvania (PRWEB) January 22, 2016
WeSpeke, the leading social network for language learning, now offers a suite of English Lessons designed to prepare learners for success on the TOEFL iBT as well as other English certification tests including the International English Language Testing System (IELTS), the Pearson Test of English (PTE), and the Cambridge English exams.
WeSpeke provides 24 English Reading Skills Lessons that focus on the important skills needed for success on the reading section of the TOEFL iBT test or other English certification tests. Each Lesson focuses on a specific reading skill. Learners then apply the skill by reading leveled passages based upon academic topics. The 24 Lessons focus on the pre-intermediate and intermediate reading proficiency levels.
"The majority of our global community wants to learn or improve their English in order to accomplish professional, education, or personal goals," said Michael Elchik, CEO of WeSpeke. "We also know many of them are preparing for English certification tests such as the TOEFL iBT to attend a university or to get a job. We are uniquely positioned to meet their needs by offering focused TOEFL preparation that enhances the communication skills they are developing during language exchanges with partners on WeSpeke. WeSpeke is the only platform that delivers a user experience that combines great content with a global community and powerful communication tools.
The Reading Skills Lessons are based upon the latest research in second language acquisition and are written by accomplished and skilled English educators. "We are getting excellent feedback on the Reading Skills Lessons and are now working on Lessons to focus on listening," added Elchik. "The Lessons are being used by English teachers in their classrooms, by English schools as additional support, and by English learners across the globe."
Currently, the Lessons are only available on a desktop computer or a tablet (iOS and Android). A free WeSpeke Lesson app is in development and will be available in the iTunes Store and Google Play in the upcoming months as a companion to the WeSpeke Chat app.
TOEFL is a registered trademark of the Educational Testing Service (ETS) which neither sponsors nor endorses the WeSpeke Reading Skills Lessons.
About WeSpeke
WeSpeke is a free, safe, global social network designed for learning and practicing languages, sharing cultures, and making international connections. Using WeSpeke, learners build language skills through collaborative and immersive conversations with native speakers on topics of common interest. The platform enables members to connect using text, audio, and video on computers, tablets, and smartphones. For additional learning support, WeSpeke offers focused 30-minute Lessons that teach English, including TOEFL iBT® test preparation, and other languages. Each Lesson uniquely integrates content, practice, and communication with the WeSpeke global community. WeSpeke was founded in 2010 by Michael Elchik and Jaime Carbonell, Ph.D., Director of the Language Technologies Institute at Carnegie Mellon University in Pittsburgh, PA.