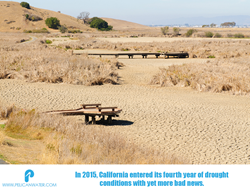 DeLand, Florida (PRWEB) January 21, 2016
Pelican Water Systems emphasizes the importance of water conservation as California's drought wages on.
In light of recent reports from the National Oceanic and Atmosphere Association (NOAA), Pelican Water Systems, well respected for affordable and straight forward water conservation and filtration systems, warns consumers to be vigilant and prepared as one of the worst droughts in California history stretches on. The concern is that citizens will be given a false sense of relief from the drought as the winter months bring rains from the strong 2016 El Niño weather system.
Pelican Water and the weather experts at the NOAA agree that the 2016 El Niño patterns are likely to bring record amounts of rainfall to drought stricken California but not in the areas where it is most needed. NOAA scientists think Southern California will see most of the rains while areas north of Sacramento, the areas where most of the state's water reservoirs are located, will not experience much influx from El Niño.
Despite the increase in precipitation, experts warn that the influx of rain could make conditions worse instead of better. Floods, along with the runoff that accompanies them, often contaminate water supplies with oil, dirt, gasoline, and other harmful byproducts. For these reasons, filtered water becomes increasingly important as the El Niño system sets in.
During the drought, it is important that California residents continue to conserve water. Pelican Water Systems is pleased to be an industry leader in water treatment systems. Pelican has many filtration options including small, under-counter, Reverse-Osmosis filtration systems and on-demand whole house water filtration systems. These systems can help residents living in California both conserve their water while ensuring that the water they do consume is healthy, pure, and free of harmful contaminants. Pelican Water Systems stands ready to help consumers battle this drought while staying within the family budget.
About Pelican Water Systems:
PelicanWater.com is the official, factory-direct retail website for Pelican Water Systems, providing professional knowledge and leading technologies in whole house water filtration, countertop water filtration systems, UV bacteria disinfection systems, as well as salt-free water softening and conditioning systems. Pelican Water products use cutting-edge technology and enable customers to go green by eliminating wasteful and harmful salt brine discharge that is polluting our valuable fresh water resources. For over a decade, Pelican Water has stayed true to their mission statement: being a company that helps families enjoy cleaner, safer, better-tasting water in their homes in an environmentally-friendly way. Pelican Water has been and continues to be the global market leader in salt-free water softening system. For more information about Pelican Water Systems, visit PelicanWater.com.