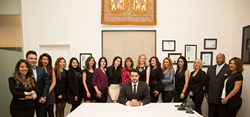 Many thanks to Arian Eghbali for your amazing service. Ben Bernanke, The Former Federal Reserve Chairman.
Beverly Hills, Ca (PRWEB) February 18, 2016
Arian Eghbali's Enrich Financial has been hailed as the number 1 credit repair company by Raji Rab the Democratic Party Challenger in the 30th District of California.
This recognition is another proof that Enrich Financial is an influential credit repair company that has helped numerous clients find financial security and freedom from debt. And aside from this recent recognition, Enrich Financial was also cited as the top credit repair company by CBS news reporting clients receiving sound financial advice and credit repair help in Lost Angeles, CA.
Arian Eghbali, CEO of Enrich Financial, has also received numerous citations and awards in recognition for his service through his credit repair company. He has been the recipient of a Certificate of Special Congressional Recognition that highlights his company's invaluable service to the community. And possibly the most valuable of all was a letter citing the company and CEO Eghbali's services from the President of the United States, Barack Obama.
Enrich Financial has been serving Los Angeles, CA for years. It has changed the lives of people by providing key financial services which will improve his financial status, help him pay off existing loans and to eventually be free from debt. The credit repair firm believes that when a person's credit standing has been improved he will be able to live a better and more productive life.
Arian Eghbali, CEO of the #1 Credit Repair Company in Los Angeles, Enrich Financial, Receives Recognition from Three Principal Entities in the State .
Aside from this Congressional Recognition, Enrich Financial has also received several recognition for its services and tireless efforts in the field of credit repair. One of the most recent, and possibly most humbling, is a letter citing the company and CEO Eghbali's services from U.S. President Barack Obama.
For more information about Enrich Financial, fill out a form at: http://www.enrichfin.net or call 800 610 4575.