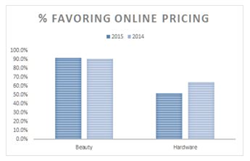 Online discounts were observed as high as 73.7%
Chicago, IL (PRWEB) February 01, 2016
Anthem Marketing Solutions has released the ninth installment of its semi-annual study comparing online and in-store pricing of consumer goods across a range of regularly purchased categories. The key findings in this study include:
-75% of items reviewed were found at same price online and offline
-The Household products category had highest price consistency at 80.8%
-The Beauty category has the lowest price consistency at 62.1%
-When a price difference exists, 75% of observations favor the online channel
-Online discounts were observed as high as 73.7%
-Instore discounts observed as high as 58.6%
-New in this study, the grocery category was added. Grocery items in the online channel were as much as 40% higher than average
Across every category, a minimum of 60% of observations were priced the same in both channels. When a price difference did exist between the online and in-store channels the Office\School Supplies and Entertainment categories exhibited the highest average online savings opportunity at 56.1% and 73.7% respectively. These categories also observed the highest instore savings opportunity when a price difference existed between the channels.
In the lowest price tier of $0-$5, 73% of observations returned the same price in both channels. However, where a price difference existed, the in-store channel offered the greater discount at 40.9%. Observations with a price point between $61 and $80 offered the greatest cross-channel price consistency and the lowest in-store discounts in each channel. 85.7% of observations in this price group exhibited the same price in both channels. Where a price difference existed, online savings averaged 9.7% while in-store savings averaged 16.4%.
Click here to view the study online
About Anthem Marketing Solutions
Since 2004, Anthem Marketing Solutions has provided data-driven solutions to today's omni-channel marketers, focusing on growing long-term customer value. Learn more about our products & services at anthemedge.com or email us at