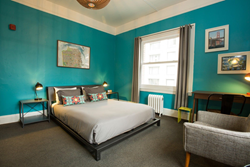 "The winning bidder will undoubtedly leave a long-lasting legacy for residents of the Bay Area."
San Francisco, CA (PRWEB) January 22, 2016
Hostelling International San Francisco Downtown (HI San Francisco Downtown) is auctioning its VIP suite for a 4-night stay during the Super Bowl, February 4-8. Located near Union Square, the room is up for bid through January 28, at 8:00 pm (PST). All proceeds benefit HI USA's Outdoor Hostel Adventures program, which helps at-risk Bay Area youth to expand their horizons by experiencing the natural world.
The private apartment-style VIP suite is typically not open to the public, and this is a rare opportunity to have your Super Bowl stay make a lasting local impact. At the "buy now" of price of $7,500, the winning bid can help up to 80 local youth participate in OHA. Additionally, a portion of the winning bid may be tax deductible to the extent of the law.
"We have a large population of Bay Area youth who are trapped in their neighborhoods. Outdoor Hostel Adventures has the potential to break the confines of their thoughts and their goals," says Danielle Brumfitt, Northwest Vice President of Hostelling International USA (HI USA), the national nonprofit that operates the hostel. "The winning bidder will undoubtedly leave a long-lasting legacy for residents of the Bay Area."
The room features its own fully-equipped kitchen, and the package includes a private cycling tour along San Francisco's picturesque waterfront and across the iconic Golden Gate Bridge. The winning bidder will also have the opportunity to experience HI San Francisco Downtown's free walking tours of Chinatown and the Mission District, as well as other locally inspired activities offered during their stay.
As part of HI USA, HI San Francisco Downtown is committed to bringing together people of diverse backgrounds to create a more tolerant world. HI USA is globally recognized for its outstanding collection of 55 hostels, and HI San Francisco Downtown is a top-rated hostel in the city.
To secure your bid for the VIP Suite at HI San Francisco Downtown, February 4-8, click here. For questions, contact Netanya Trimboli, Communications & PR Manager, HI USA, at Netanya(dot)Trimboli(at)hiusa(dot)org or (240) 650-2104.
HI San Francisco Downtown is a 330-bed hostel located in Union Square and is part of Hostelling International USA (HI USA). HI USA is a nonprofit, member organization founded on an enduring belief in the power of travel to foster a deeper understanding of people, places, and the world around. It's our commitment to promote a dynamic community of global citizens who have the wisdom and humanity to actively make the world a better place. As the nation's leading hostel brand, HI USA hosts more than 1 million overnights annually, with guests from more than 100 countries. For over 80 years, HI USA has provided a network of affordable hostels in converted mansions, reinvented lighthouses, and historic urban buildings all across the country. Visit http://www.hiusa.org for more information.