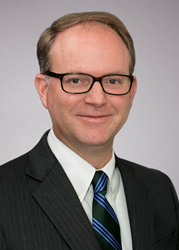 Boise, Idaho (PRWEB) January 22, 2016
Attorney Teague Donahey has joined Holland & Hart's Boise office, expanding the firm's litigation services within its Intellectual Property practice.
Teague Donahey handles high technology patent litigation disputes on behalf of major corporations, as well as other significant intellectual property, antitrust, and other business litigation in both federal and state courts and before the International Trade Commission (ITC). His cases have involved a range of technologies related to semiconductors, electronics, computer hardware and software, telecommunications, and more. Before joining Holland & Hart, Donahey was a partner in the San Francisco office of Sidley Austin LLP.
"The addition of Teague to our office from a leading coastal firm broadens our ability to offer clients highly experienced and cost-effective IP litigation solutions," said Brian Hansen, Holland & Hart's Boise office administrative partner. "His IP litigation experience accentuates our existing patent prosecution and transactional IP capability in Boise, offering our clients in the state of Idaho and beyond access to a powerful level of local IP support."
With more than 80 attorneys in its intellectual property group, Holland & Hart has one of the largest full-service intellectual property practices in the Mountain West. With clients including Fortune 500 companies, privately-owned institutions and emerging growth organizations, the group focuses on trademark, patent, IP transactions and IP litigation.
###
About Holland & Hart
Established in 1947, Holland & Hart is a full service, national law firm that today has more than 500 lawyers in 15 offices across the Mountain West and in Washington, D.C. delivering integrated legal solutions to regional, national, and international clients of all sizes. Holland & Hart's attorneys have consistently been recognized by leading national and international peer and industry review organizations for innovation and dedication to the practice of law. The firm was recently ranked No. 16 nationally among 300-plus law firms on BTI Consulting's 2016 "Client Service 30" and for the fifth consecutive year was named to BTI Consulting's list of Most Recommended Law Firms by corporate counsel. For more information, visit http://www.hollandhart.com.
Our Boise office and its predecessor firm have served individuals, businesses, and communities throughout Idaho for more than 80 years. With over 45 lawyers, we access our local experience and the resources of a regional office network to provide responsive, efficient counsel to businesses of all sizes on a full range of legal services, from intellectual property to energy law and corporate to litigation.