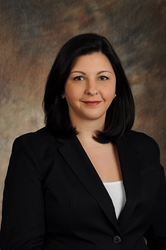 "Her passion for jewelry, together with her knowledge of the auction world and industry trends, makes her a great fit for Morphy's now and for our vision for the future." Dan Morphy, President, Morphy Auctions
Denver, PA (PRWEB) January 22, 2016
Morphy Auctions today announced that Allia Dhody has joined the company as full time Department Head of the company's Fine Jewelry and Watch Division. Morphy's presents several dedicated fine jewelry sales annually, and offers fine jewelry throughout the year at premier events. Allia will be responsible for overseeing these auctions, identifying and valuing fine jewelry, cataloging, developing consignment networks, and representing Morphy's at events nationwide.
Allia, a Graduate Gemologist, has been professionally involved in the fine jewelry industry since 2008. Jewelry design and the science behind precious metals and gemstones have been her lifetime passions. Most recently, Allia was an Associate Specialist, Jewelry and Watches, at Freeman's Auctioneers and Appraisers in Philadelphia, PA. There she was responsible for all evaluations, appraisals, and cataloging for five annual sales, as well as managing the daily operation of the auction house's jewelry and watches department. At Freeman's, she also regularly participated in appraisal charity events. Prior to her work at Freeman's, Allia was a Gemologist and Sales Associate for the jewelry retailer Cooke and Berlinger in Haverford, PA. She completed her jewelry internship at Randolph's Fine Jewelry in Philadelphia, PA. Allia's areas of expertise include precious stone identification, grading, and valuation, as well as research, cataloging, and consignor relations. She is a member of The Gemological Institute of America Alumni Association.
According to Dan Morphy, President of Morphy Auctions, "We are delighted to welcome Allia to Morphy's and to our team of world-class experts. Her passion for jewelry, together with her knowledge of the auction world and industry trends, makes her a great fit for Morphy's now and for our vision for the future." Allia adds, "I am thrilled to join Morphy's and look forward to presenting our customers with unique, fabulous, and fresh to the market jewelry selections. Our next sale is in May, 2016 and features a breathtaking, single owner collection. We are now accepting consignments for our November, 2016 fine jewelry sale. I look forward to working with you if you wish to buy or sell one piece, or an entire collection, of fine jewelry; you can reach me at Allia.Dhody(at)MorphyAuctions.com or 717-335-4613."
About Morphy Auctions:
Morphy Auctions, the finest auction destination for fresh to the market collectibles, is headquartered in Denver, Pennsylvania. The company also has an office in Las Vegas, Nevada. A full service auction house, the company presents over 30 premier auctions annually, as well as monthly discovery sales. Morphy's team of specialists includes the nation's finest and most recognized experts in popular collecting categories including advertising; firearms; fine automobiles, automobilia and petroliana; coin-operated machines; antiques, fine, and decorative art; dolls, bears, toys, and trains; cast iron; coins; marbles; and jewelry. Morphy Auctions is owned by President and Founder Dan Morphy, himself a lifelong and passionate collector of antiques, banks, and numerous other categories. Morphy's has been in business since 2004 and has grown from two to over 65 employees in over a decade.
Morphy Auctions is located at 2000 North Reading Road, Denver, PA 17517. We can be reached by phone at 717-335-3435, by fax at 717-336-7115, and by email at info(at)morphyauctions.com. Morphy Auctions is open seven days a week from 9am to 4pm. For more information on Morphy's, please visit http://www.MorphyAuctions.com.