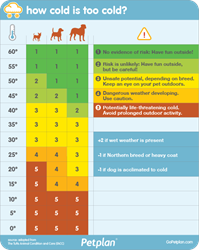 Newtown Square, PA (PRWEB) January 25, 2016
Petplan pet insurance is issuing an important plea to pet parents this winter: find out how cold is too cold for individual pets and protect furry family members accordingly.
Petplan says breed, body size and environment all contribute to a pet's risk factors for frostbite and hypothermia; smaller breeds and those with thin coats fare worse in winter weather than their larger, fluffier counterparts. In other words, 20˚F can be potentially life-threatening to a Chihuahua, but safe for a romp in the snow to an Alaskan Malamute.
"People don't always realize the danger to pets during winter weather conditions, but extreme temperatures can cause everything from arthritis flare ups to skin problems to potentially deadly hypothermia," says Dr. Jules Benson, Chief Veterinary Medical Officer at Petplan. "It's important – especially in households with different dog breeds – for pet parents to assess the safety conditions for each individual pet before turning them loose in the cold."
Dr. Benson says factors like whether wet weather is present, how acclimated a dog is to cold conditions, a dog's age and the thickness of his coat also affect a pet's tolerance to frigid weather. To help pet parents decide when it's safe to let pets outside, Petplan created the cold weather safety chart to the right.
beating the cold
When temperatures dip, Petplan urges pet parents to keep these winter hazards in mind:
ice
Ensure a safe walkway, paying extra close attention to stairs, so slips don't turn into injuries. Never let pets play on frozen lakes or ponds.
de-icers
Use a pet-friendly de-icer on walkways to protect pets' feet from caustic agents. Be sure to give paws a good wipe once pets are back inside.
snow
When snow covers scents and visual landmarks, off-leash pets have a hard time finding their way back home. Avoid off-leash play until the bulk of the snow has melted.
low humidity/forced heat
Winter brings out the worst in pets prone to dry skin. Use moisturizing leave-in conditioners and ask the your vet about adding omega-3 fatty acids at mealtime.
hypothermia
Sometimes it's simply too cold for pets to be outside, regardless of their breed. Proper insulated shelter is a must for outside pets and they should always be brought inside during extreme cold.
frostbite
To compensate for a drop in temperature, our pets' bodies the body redirects blood to circulate around vital organs to protect them, which leaves their ears, tail, nose, genitals, feet and legs susceptible to damage. Frostbite is a serious condition; in severe cases where a large amount of tissue has died, it may be necessary to amputate the affected area.
For more information about keeping pets safe in the cold, visit http://www.gopetplan.com/jan2016-health-tip
###
ABOUT PETPLAN
Petplan is more than a pet insurance provider. We're dedicated to giving pet parents the support, resources and tools they need to keep their pets not just surviving—but thriving—into old age. Simply put, we aim to be the kind of company that will make our pets proud. For the third consecutive year, Petplan was listed among the top 50 of Forbes' annual ranking of America's Most Promising Companies – a list of 100 privately held, high-growth companies with bright futures. Petplan is the only pet insurance provider to have been included on Inc. Magazine's list of 500 fastest-growing, privately held companies in America.
Petplan's fully customizable cat and dog insurance policies provide comprehensive coverage for all hereditary and chronic conditions for the life of the pet as standard. Petplan policies are underwritten by AGCS Marine Insurance Company in the U.S. and by Allianz Global Risks US Insurance Company in Canada. The Allianz Group was rated A+ by A.M. Best in 2015. For more information about Petplan pet insurance, visit http://www.petplan.com or call 1-866-467-3875.