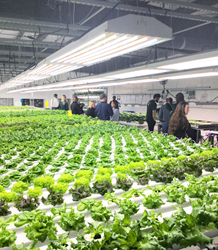 SOUTH WINDSOR, Conn. (PRWEB) January 26, 2016
Growers Supply, the industry leader in greenhouses, high tunnels and hydroponic systems, announced the 2016 dates for the company's educational CEA Hands-on Workshops. The three-day workshops will alternate between the Growers Supply CEA Learning Center West in Dyersville, Iowa and the Growers Supply CEA Learning Center East in South Windsor, Connecticut.
CEA Hands-on Workshops offer attendees an education-filled three day schedule in which Growers Supply experts and industry specialists educate attendees on the latest trends in new and innovative growing techniques, such as hydroponics, aquaponics and microgreen production.
Growers Supply CEA Hands-on Workshop events are set for the 2016 year and cost only $995 for the full three days. This cost includes a three day hotel stay, lunch each day and a complete course workbook.
Upon completion of the workshop, each attendee will receive a $995 product credit that can be used towards the purchase of any controlled environment product, including GrowSpan greenhouses, HydroCycle hydroponic systems, heaters and more.
Below is the 2016 Growers Supply CEA Hands-on Workshop Schedule:
Growers Supply CEA Hands-on Workshop Schedule-2016
South Windsor, Conn. Dyersville, Iowa
Feb. 17-19 Jan. 19-21
Apr.27-29 Mar.15-17
June 15-17 May 17-19
Oct. 12-14 Sept. 13-15
Dec. 7-9 Nov.8-10
CURRICULUM
The Hands-on Workshop's curriculum starts with the basics of year-round hydroponic crop production. Attendees will learn about the benefits of specific hydroponic systems and how they compare to others.
Hydroponic growing has recently attracted attention, due to the loss of fertile farmland and large-scale droughts around the world. Hydroponically grown plants grow up to 50 percent faster and produce higher yields when compared to traditional methods. Hydroponic systems also eliminate the need for soil and pesticides, while reducing water waste and the amount of natural resources needed to grow.
Attendees will also learn basic and advanced information on plant nutrition, including nutritional testing, supplementation, calibration and more.
With a complete understanding of hydroponics, discussing how to plan for and set up a controlled environment will come much easier. Growers Supply's controlled environment topics will include how to best control temperature and humidity, sizing a greenhouse, integrated pest management and more.
Attendees will also receive priceless information on aquaponics from industry experts and leaders within the field. These presentations showcase the symbiotic relationship between plants and fish that many are beginning to take advantage of.
PARTICIPANT TESTIMONIALS
"Everything was excellent and I loved the hands-on experiences. The staff at Growers Supply were professional, knowledgeable and helpful." - December 2015 CEA Hands-on Workshop attendee Sharon Castelli.
"All the presentations were very informative and I learned a lot. The CEA Hands-on Workshop opened up a whole new world of growing for me." - September 2015 CEA Hands-on Workshop attendee Joseph Prasad.
To sign up for any of the upcoming CEA Learning Center East workshops contact Kelley Roche at 800.476.9715 ext. 1649.
To sign up for any of the upcoming CEA Learning Center West workshops contact Cathy Eiben at 800.476.9715 ext. 7795.
Click here for more information.
###
Growers Supply is the leading manufacturer of CEA structures, system and supplies, offering design-build solutions for the horticulture industry. With a catalog of over 30,000 products, complete growing systems can be custom designed to fit the needs of any business. FarmTek's corporate headquarters are located in South Windsor, Conn., and supports a campus for manufacturing and distribution in Dyersville, Iowa.