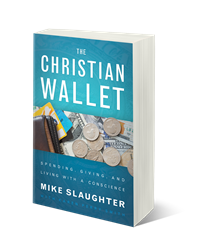 "Helpful resources, compelling research, and motivating stories make this a practical, thoughtprovoking, and often entertaining book." —Publishers Weekly
Louisville, KY (PRWEB) February 02, 2016
What we do with our money matters to God, according to a new book from author and pastor Mike Slaughter. "There is no clearer indicator of our ultimate values than our financial priorities and practices," he writes. How we spend, save, and give are deeply spiritual issues, as Slaughter shows in his new book, The Christian Wallet: Spending, Giving, and Living with a Conscience (Westminster John Knox Press). By profiling people who have made the hard choices necessary to transform their relationships with money, Slaughter outlines eight Christian Wallet principles and offers tips on how to put them into practice.
Covering topics such as debt, giving, budgeting, and conscious spending, Slaughter offers a comprehensive look at Christians and money. He argues that we each make a choice, consciously or unconsciously, to invest our resources in serving ourselves or serving God's purposes. "Conscientious and compassionate use of our money in a world where people spend $310 million on costumes for their pets and $5 billion on ringtones for their phones is not an easy task," Slaughter says.
The Christian Wallet includes questions for reflection after each chapter, encouraging the reader to take a closer look at their own financial priorities and practices.
Mike Slaughter is the lead pastor at Ginghamsburg Church in Tipp City, Ohio. Under his leadership, Ginghamsburg became known as an early innovator of small group ministry and a leader in global mission efforts. A sought-after speaker, he is the author of many books, including Renegade Gospel: Rebel Jesus, Dare to Dream, Hijacked, Change the World, Christmas Is Not Your Birthday, and Upside Living in a Downside Economy.